When you realize a loved one needs home care for assistance with daily activities, one of the first things that comes to mind is, "what will this cost?" You may feel guilty putting a price tag on something like that, but it's a valid concern and something that must be addressed. Healthcare costs are constantly on the rise and without proper budgeting and cost controlling measures, heartbreaking decisions may have to be made in the future. Fortunately, there are many ways to ensure excellent home care for loved ones without a harsh financial burden.
Average Costs of Care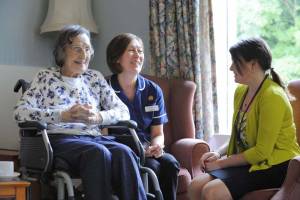 The costs of care vary, depending on a variety of factors. Any necessary medical care will add to the cost, as will the extent of needed assistance and where you live. The best way to create a budget is by determining how much help you'll need. Do you need live-in assistance 24 hours a day? Do you need someone to come in daily, a few times a week, or weekly? How many hours at a time will the person be there? Answering these questions will help determine the kind of care needed.
According to a Carescout survey taken in June 2017, the monthly national average cost for adult home health care is $1,517. Homemaker services provided by a home health care company average $3,994 per month, and $4,099 per month for a home health aide, or around $25 per hour. In contrast, a semi-private room in a nursing home costs $7,148 per month, or $238 per day, while a private room costs $8,121, or $270 per day. Every year these costs are expected to increase by 3%, based on inflation.
Home Care Contributes to Independence
Home care is a more affordable option, and allows people to stay in their own homes longer. This will appeal to people who value their independence and are adamant against moving into a nursing home. Unless there are medical issues requiring extensive assistance, the help from a home care agency might be all that's needed because they can lend a hand with a wide variety of daily activities.
A senior who has assistance with daily tasks has fewer chances of accidents and falls. Caregivers encourage people to move about, engage socially, eat nutritious food, and maintain good hygiene habits. They can transport people to and from doctors' appointments and help them in and out of vehicles if they can no longer drive themselves. They are also able to monitor medication dosages, both to avoid missed doses and accidental overdoses.
No matter what kind of home care you need, the compassionate professionals at Assisting Hands can help. Each of our clients are treated with respect and dignity. We can help a little or a lot, depending on your unique family situation. Our services include:
We work with you and your loved one to create the perfect home care solution that suits everyone's needs.
Get a Free Consultation
To get free estimate on the cost of home care services from Assisting Hands, give us a call at (847) 796-6685.