Hospitalization can be tough on anybody, but it is especially difficult for senior citizens.  Seniors may be hospitalized due to an injury, illness, or surgery, and the experience can leave them feeling weakened and disoriented.
It is very important for senior citizens to take care of themselves and follow their discharge instructions after returning home from the hospital or they could experience a setback and even re-hospitalization.  In fact, statistics show that one-fifth of senior citizens who are hospitalized end up back in the hospital within 30 days.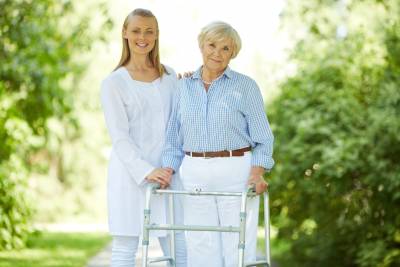 Recovery Assistance in Park Ridge, IL
In order for senior citizens to have a full recovery from a hospital stay, they need some transitional to ensure that they eat properly and follow their discharge instructions without suffering a setback.
At Assisting Hands, we provide recovery assistance in Park Ridge, and the Chicago Suburbs to help senior citizens make a full recovery after a hospital stay and avoid being re-hospitalized.  Our senior recovery help includes medication reminders, meal preparation, and also light housekeeping so that your loved ones can focus on their recovery.
Transitional Care Park Ridge, IL
For transitional care services in Park Ridge, IL and the surrounding areas, contact Assisting Hands at (847) 796-6685.
The Importance of Transitional Care
Recovery after hospitalization is such a challenge for senior citizens because they may have new medications, dietary restrictions, and doctor ordered exercises that they now have to manage.  Their full recovery depends on their ability to follow all of their discharge instructions and ensure that they are eating properly and taking their medications.  If they do not follow their discharge instructions, there is a much higher risk of returning to the hospital.
Our caregivers at Assisting Hands will help ensure that your loved ones make a full recovery by providing the following:
Meal Preparation: It is crucial for senior citizens to get the proper nutrition after returning home from the hospital to aid their recovery. However, some seniors may not have the strength to prepare their own meals which will prevent them from eating well enough to recover.  Our caregivers will prepare regular meals for your loved ones to ensure that they are eating properly.  We will also account for any special dietary needs for those with heart disease, hypertension, or diabetes.
Transportation: In most cases, a discharge from the hospital requires several follow up visits to the doctor to ensure that the recovery is going smoothly. Our caregivers can help schedule follow up doctor appointments for your loved one and provide transportation to make sure they don't miss an appointment.  We can also accompany your loved ones on their visit and get the instructions from their doctor.
Medication Management: Many seniors may return home from the hospital with new medications and instructions for taking them. Our caregivers will make sure that your loved ones take their medications according to the instructions, and we can also pick up prescriptions when needed.
If your elderly parents or a family member has recently returned home from the hospital, it is very important to ensure that they follow their discharge instructions for a full recovery.  Our caregivers at Assisting Hands provide home care services to help your loved ones eat well and follow their discharge instructions so that they can recover and avoid re-hospitalization.
Contact Us
Contact Assisting Hands at (847) 796-6685 if you would like our caregivers to help a loved one who has just returned home from the hospital.
---
Related Transitional Care Services:
After Surgery Care Park Ridge, IL
Rehabilitation Park Ridge, IL
Stroke Recovery Park Ridge, IL
Cancer Recovery Park Ridge, IL