Care Management
Providing care for an elderly family member or adult with disabilities is often complicated, as well as physically and emotionally draining.  If you or a family member is providing care, it is natural to wonder if you are providing good enough care to make a difference.  The care needs of an elderly family member may become more complicated as they get older, and it may be impossible for you or another family member to adequately handle every care need.  If you can no longer provide the type of care and attention needed for your loved ones, contact Assisting Hands to help with our care management services.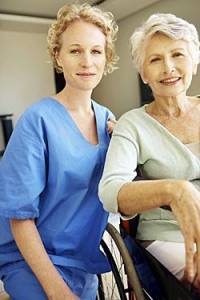 At Assisting Hands, we have highly trained and compassionate caregivers who are ready to provide effective care management and coordination for senior citizens and adults with disabilities in Park Ridge, IL and the Chicago suburbs.  We are not able to provide medical care, but we can effectively manage the non-medical home care needs of your loved ones including medication reminders, going to doctor's appointments, and special dietary needs.
Our caregivers will act as the liaison between you and your loved one's doctors and always keep you informed about any changes.  You will be able to rest easier knowing that the care of your loved ones is in the hands of our professional caregivers.
Care Coordination and Management in Park Ridge, IL
The main purpose of our care management services is to inform the family of the doctor's orders for their loved ones and ensure that these orders are followed.  We will also immediately inform you if there are any changes to the care needs of your family members.  Our senior care management services include the following:
Scheduling of doctor appointments and transportation to the appointments.
Our caregivers will attend the doctor appointments with our clients and act as the communication between the doctor and the family members.
We will monitor our clients' condition and make sure they are taking their medication and doing doctor recommended exercises.
We can accommodate any special dietary need by preparing healthy meals for our clients.
If you are overwhelmed trying to keep up with the care needs of elderly family members, contact Assisting Hands for care management and coordination from our trained caregivers.  You can trust our caregivers to provide the care your loved ones need, and to keep you informed of changing care needs and doctor's orders.
Get a Free Consultation
For a free consultation regarding our care management services in Park Ridge, IL and the Chicago suburbs, contact Assisting Hands at (847) 796-6685.
---
Related Care Services:
Home Care Des Plaines, IL
Home Care Park Ridge, IL
Park Ridge Home Care
Home Care Elk Grove Village, IL
Home Care Palatine, IL
Home Care Hoffman Estates, IL
Home Care Chicago, IL
Home Care Harwood Heights, IL
Home Care Niles, IL
Home Care Norridge, IL
Home Care Rolling Meadows, IL
Home Care Schaumburg, IL