Call Now: (847) 796-6685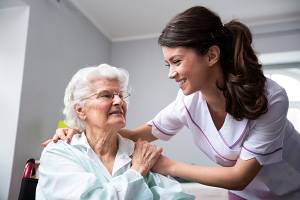 For most, home is where everyone finds the most comfort, which is why in-home care is the preferred choice for seniors and disabled adults. They are often provided by a family caregiver, but they will need regular breaks; they have their own lives and families don't always have time or resources as informal caregivers. However, home care services are still the best option.
With non-medical home health care services in the Rolling Meadows, IL area, Assisting Hands can help seniors and disabled adults live safely and comfortably at home. We will create a customized care plan with an assessment of your loved one's care needs and evaluation of their home.
Along with proper training and experience, our caregivers have passed a background check, so they can be trusted to provide quality home care. Our caregivers are also insured, bonded, and trained to provide first aid and CPR.
Home Care Assistance in Rolling Meadows, IL
For home care services in the Rolling Meadows, IL area, contact Assisting Hands at (847) 796-6685.
We personalize our home care services to meet our clients' needs, including any of the following:
Meal Preparation: Limitations may prevent elderly individuals and disabled adults from cooking for themselves. Our caregivers prepare nutritious meals and handle the cleanup afterwards.
Personal Care and Grooming: Some seniors and disabled adults may have difficulties keeping up with their personal care and grooming routines. Our caregivers can help with dressing, using the restroom, bathing, and more.
Errands and Transportation: If your loved one cannot drive, our caregivers provide rides to doctor's appointments, grocery stores, and run errands.
Care Management: Our caregivers will provide care using a customized care plan. We also create a convenient schedule for family caregivers, and help with medication management.
Light Housekeeping: For those physically limited, keeping their home clean can be a tough task. Our caregivers will dust, vacuum, and do other light housekeeping activities to keep the home tidy.
Companionship: Loneliness is common for seniors and disabled adults, but our caregivers can help as social companions. As personal relationships develop, we partake in fun activities and conversation.
Live-In/24-Hour Care: Certain seniors and disabled adults require attention at all times, and we can help with live-in and 24-hour care services. With live-in care, a caregiver lives in your loved one's home to provide care but must sleep at night. With 24-hour home care, a caregiver is awake and available to provide assistance at all times of the day, switching between shifts.
Respite Care: Some elderly individuals and adults with disabilities have a family caregiver, but may not always be available. They may need help and/or a break, and we can help with respite care services. A caregiver can help while the family caregiver is on scheduled breaks.
Overnight Care: With overnight care, we can provide assistance with nighttime tasks. A caregiver arrives at the client's home in the evening and will respond to any emergencies throughout the night.
Alzheimer's and Dementia Care: Specialized care is necessary for individuals suffering from Alzheimer's disease or another form of dementia. Our caregivers can help patients with mentally-engaging activities designed to slow memory loss.
Post-Operative Care: When undergoing surgery, it can be tough to recover and possibly even suffer a setback. But with post-operative care, we will help them recover to avoid setbacks.
In addition to developing a care plan that caters to client's needs, we choose a caregiver who is a good fit for your loved one. If their care needs change, we will accommodate and alter the care plan. If the primary caregiver cannot work a specific day, there's no need to worry; we always have another caregiver to help your loved one.
Free Consultation
Call Assisting Hands at (847) 796-6685 for more information regarding our home care services in Rolling Meadows, IL. Within 48 hours, a qualified, trained caregiver will be ready for your loved one.
---
Related Services:
Home Care Services Park Ridge, IL
Home Care Services Hoffman Estates, IL
Home Care Services Palatine, IL
Home Care Services Norridge, IL
Home Care Services Harwood Heights, IL
Home Care Services Niles, IL
Home Care Services Elk Grove Village, IL
Home Care Services Schaumburg, IL
Home Care Services Chicago, IL
Home Care Services Des Plaines, IL