Call Now: (847) 915-6186
The US saw an increased need for senior home care when the baby boomer generation approached retirement. Elderly relatives had little choice but to move to a nursing home or assisted living facility. But now, the healthcare industry acknowledged the benefits of senior home care, which made it the preferred choice for these families.
Serving Rolling Meadows, IL, and the nearby areas of Cook County, Assisting Hands assists elderly individuals with personalized senior care services.
We will first meet with you and your elderly loved one for a home safety evaluation and care assessment to determine their needs. A care plan is then created to cover their needs and schedule. After your approval, a caregiver will then be assigned to your loved one.
Help with Activities of Daily Living (ADLs)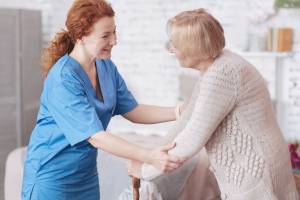 Each of the following personal care tasks can be included in our senior care plans:
Dressing: Dressing oneself can be difficult for some elderly individuals, especially with physical limitations. Our caregivers will help them get dressed as needed.
Restroom Use: If you have elderly loved ones requiring assistance using the restroom, our caregivers will help.
Bathing and Showering: Bathing and showering regularly is important, but seniors might have trouble. Providing full or partial assistance, our caregivers will help with daily bathing and/or showering.
Personal Appearance: Our caregivers will help seniors brush teeth, comb hair, and with other tasks to maintain personal appearance.
Mobility Assistance: For those with limited mobility, our caregivers will help them move around their home and into their wheelchair, bed, or recliner.
Incontinence Care: If your loved one struggles with incontinence, our caregivers will help them change and clean up.
We can also include the following to help seniors at home:
Light Housekeeping: To help elderly loved ones live in a clean environment, our caregivers perform light housekeeping activities, including laundry, dusting, and vacuuming.
Transportation: For seniors who don't drive, our caregivers provide rides to medical appointments, family events, other places and also run errands.
Meal Preparation: To keep your loved ones eating regularly and nutritiously, our caregivers will prepare meals, accounting for any dietary restrictions.
Companionship: Our caregivers will be companions and friends to seniors, developing a personal relationship through fun activities and conversation.
Senior Home Care in Rolling Meadows, IL,
Contact Assisting Hands at 847-915-6186 for senior home care services in the Rolling Meadows, IL area.
With senior home care, Assisting Hands helps elderly individuals in Rolling Meadows, IL, and the nearby areas of Cook County age comfortably and safely at home. Our caregivers have quality training, years of experience, and proper licensing, so you can trust your elderly loved ones will receive excellent care and companionship. To develop a care plan that caters to seniors' unique care needs, we will meet with you and your loved one.
Before starting, our caregivers must first a background check and our training program. This guarantees only the best, compassionate, respectful, trustworthy professionals work with your loved ones in their homes. They are also trained to provide first aid and CPR.
Reach out to Assisting Hands for senior home care services if you have elderly loved ones in need of extra help around the home in Rolling Meadows, IL, or the nearby areas of Cook County.
Complimentary In-Home Senior Care Assessment
Assisting Hands is dedicated to providing personal care and assistance to comfortably and safely age at home. Inquire about a free in-home assessment by calling us at 847-915-6186.
---
Related Services:
Senior Care at Home Palatine, IL
Senior Care at Home Hoffman Estates, IL
Senior Care at Home Park Ridge, IL
Park Ridge, IL Senior Care at Home
Senior at Home Care Elk Grove Village, IL
Senior at Home Care Niles, IL
Senior at Home Care Norridge, IL
Senior at Home Care Harwood Heights, IL
Senior at Home Care Chicago, IL
Senior at Home Care Des Plaines, IL