Call Now: (847) 796-6685
One of the most difficult things about aging is losing the ability to accomplish day-to-day tasks independently. Whether it is due to physical or mental limitations, the need for home care services can be a real shock. At Assisting Hands, we provide senior home care services in the Chicago, IL area to help seniors and adults with disabilities with daily activities.
We apply a customizable approach in order to help with tasks that are actually needed and strive to build relationships in the process.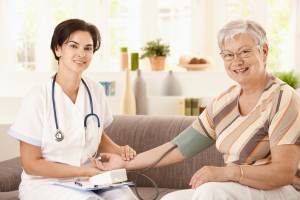 The Benefits of In-Home Care
The greatest benefit to receiving in-home care is the sense of independence that can be partially maintained. Instead of going through the process of selling property and moving to a retirement home, our caregivers give you the opportunity to grow old in the comfort of your own home. This reduces the shock factor of needing senior care services and is particularly beneficial for those struggling with memory loss.
Senior Care in Chicago, IL
Give us a call at (847) 796-6685 to schedule a free consultation regarding our senior home care services in the Chicago, IL area.
At Assisting Hands Home Care, we provide full-service in-home care to address non-medical needs. This means we can help you with your general, day-to-day needs, thanks to the quality of our caregivers, their extensive training, and genuine desire to assist our clients. As we stated above, our senior in-home care services are customizable based on your unique requirements.
For a more detailed outline of the services we can provide, please see below:
Bathing assistance (and general help with grooming and personal hygiene)
Meal preparation and eating assistance
Help with moving around the home (e.g. getting out of bed, getting up from chairs, walking across the room, etc.)
Assistance with getting dressed in the morning and at night
Help with using the restroom
Incontinence care
Light housekeeping services (e.g. dusting, mopping, washing dishes, vacuuming, etc.)
Assistance with running general errands (e.g. picking up groceries and medications, delivering mail, driving to and from doctor's appointments, etc.)
As we stated above, building relationships is a big part of our home care philosophy. Accepting in-home care is much easier when a trusted companion is performing the services. Our caregivers will partake in hobbies and activities that your loved one enjoys and will keep them mentally and physically engaged throughout the day. This is a great benefit for seniors battling loneliness, depression, memory loss, and similar difficulties.
Contact Us
To learn more about our senior in-home care services in the Chicago, IL area, or to schedule an appointment, contact Assisting Hands at (847) 796-6685.
---
Related Senior Home Care Services
Senior Care Services Des Plaines, IL
Senior Care Services Elk Grove Village, IL
Senior Care Services Harwood Heights, IL
Senior Care Services Hoffman Estates, IL
Senior Care Services Niles, IL
Senior Care Services Norridge, IL
Senior Care Services Palatine, IL
Senior Care Services Park Ridge, IL
Senior Care Services Rolling Meadows, IL
Park Ridge, IL Senior Care Services