Call Now: (847) 915-6186
At Assisting Hands Home Care, we have seen how difficult it can be for aging individuals to lose their independence as they struggle to adequately take care of themselves. Many have a hard time visiting and keeping up with friends and cannot perform the necessary tasks at home to live a healthy life. This is why we provide senior in-home care services. Through these services, we provide seniors with much-needed companionship, and help them get through their day-to-day duties in the comfort of their own homes. We can develop personalized care plans for individuals in Palatine, IL that could benefit from our services.
Our Caregivers
Caregiving services are uniquely personal because of the types of needs they address. For this reason, we require that all of our caregivers pass stringent screening and training processes before working with clients. They must display a genuine desire to help, as well as good caregiving skills. This ensures that they have the baseline skills and personality required to provide high-quality caregiving services for your loved ones. On top of this, they are also trained in first aid and CPR.
Senior In-Home Care Services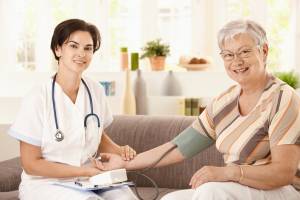 Maintaining a certain level of independence is one of the greatest perks of receiving in-home care. There is also a certain peaceful and romantic quality associated with growing old in the comfort of one's own home. Contrarily, adjusting to a retirement home can be particularly difficult for many seniors (especially those with memory loss). These venues are often crowded, rather loud, and take away the independence that many aging individuals are accustomed to.
At Assisting Hands Home Care, we can address all of your non-medical needs through our senior in-home care services. We sit down with our clients and their family members to determine which services are necessary, and then develop a personalized care plan based on this information. This plan can include a combination of the items listed below:
Assistance with personal hygiene (e.g. grooming, bathing, using the restroom, etc.)
Preparing and serving nutritious meals that follow any necessary dietary restrictions
Transfer assistance around the home (e.g. walking from room to room, getting up from chairs, getting out of the bed, etc.)
Help with getting dressed and changing outfits
Incontinence care
Light housekeeping services
Assistance with errands and general transportation
Care management (e.g. medication reminders, getting to and from the doctor's office, help with physical exercises, etc.)
Finally, we provide general companionship to all of our clients, as well. Depression is a very real concern for seniors because of the difficulties they have with getting out of the house to see friends and family members. Our caregivers spend the time to get to know their clients and participate in conversations and activities with them.
To take advantage of our senior in-home care services, contact our Assisting Hands Home Care representatives at (847) 915-6186. Our care plans are completely customizable to meet your requirements. We are happy to assist individuals in need in and around Palatine, IL.