Call Now: (847) 796-6685
Individuals with physical or mental limitations (such as seniors, those with disabilities, and those recovering from a surgery) can benefit from home health care services. At Assisting Hands, we offer these services to residents of Norridge, IL.
We work with individuals and their family members to develop an appropriate care plan based on their unique requirements. We address non-medical needs such as assistance with personal activities, cooking, cleaning, getting around the home, and similar everyday tasks.
Home Care in Norridge, IL
Get a free consultation regarding our home care services in Norridge, IL by giving us a call at (847) 796-6685.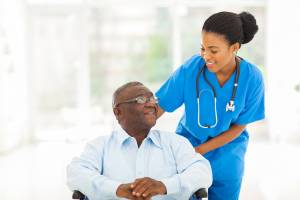 When searching for home care services, there are three common paths taken:
A family member provides informal care
An individual caregiver is hired to provide professional care
A home care agency is hired to provide professional care
Each method has pros and cons, and one method may fit your needs better than  others. However, in most cases, working with a home care agency is the best option. Statistics show roughly 25% of individuals who provide informal care report poor health themselves. This is largely because of the additional working hours required, increased stress, and lack of sleep.
Hiring an individual caregiver can work when limited services are required, or when you find somebody you trust. The problem is being responsible for an emergency rescheduling and need to hire and fire these individuals when necessary. When working with an agency, there are more caregivers from which to choose, and are always trained in home care services.
Non-Medical Home Health Care
At Assisting Hands, our caregivers are bonded and insured to provide a variety of in-home care and senior care services.
We require our caregivers pass stringent training before working with any client. We also only hire individuals who truly care about those with whom they work. This level of dedication and persona can make a big difference in terms of the quality of care delivered.
We can provide any of the home care services below:
Meal preparation
Housekeeping
Assistance with grooming and personal hygiene
General transportation
Overall care management
24-hour care and live-in care
Companionship
Get a Free Consultation
At the end of the day, it is our ultimate goal to provide you and your loved one with greater peace of mind.
To learn more about our home care services in Norridge, IL or to request a free estimate, give us a call at (847) 796-6685.
---
Related Services:
Home Health Care Chicago, IL
Home Health Care Elk Grove Village, IL
Home Health Care Harwood Heights, IL
Home Health Care Niles, IL
Home Health Care Rolling Meadows, IL
Home Health Care Palatine, IL
Home Health Care Park Ridge, IL
Home Health Care Schaumburg, IL
Home Health Care Des Plaines, IL
Home Health Care Hoffman Estates, IL