Going through surgery can be tough on anyone and there is always a difficult recovery and rehabilitation process that follows before the patient regains some normalcy.  Medical operations are especially difficult for senior citizens and adults with disabilities.  The surgery itself is physically exhausting and the recovery process can be difficult without additional help.  It is very important for those recovering from surgery to follow the instructions from their doctor so that they can recover without any setbacks.  If someone who has recently returned home from surgery tries to do too much, they could experience a setback or additional pain that will make the recovery process longer.
At Assisting Hands, we can help senior citizens and adults recovering from surgery with our after surgery care services.  Our trained caregivers provide excellent after surgery care that includes care coordination and medication reminders, as well as light housekeeping so your loved ones can focus on regaining their strength.  We understand that helping your family members with their surgery recovery can be difficult and having no one to help them increases the risk of a complication.  You can rest assured that our caregivers will accommodate your loved ones' care needs and keep them comfortable to help them make a full recovery.
Post-Operative Care Park Ridge, IL
For after surgery care in Park Ridge, IL and the surrounding areas, contact Assisting Hands at (847) 796-6685.
Assisting Hands will work with you and your loved ones to form a customized home care plan that will help them through the recovery process.  Our caregivers will help keep your loved ones comfortable and monitor their condition so we can notify you or their doctor if there are any changes.
We can also help manage their care by scheduling follow up doctor appointments and accompanying them on these visits so we can take note of the care instructions and ensure that they are followed.  Your loved ones will not only receive effective after surgery care from our caregivers, but also emotional support for a smooth recovery.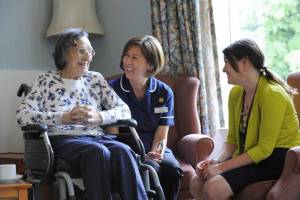 Our post-operative home care services consist of the following:
Scheduling appointments with doctors and therapists
Medication reminders and condition monitoring
Alerts if there is a change in condition
Transportation and accompaniment for doctor appointments
Pickup of prescription drugs
Help with personal activities such as dressing, bathing, and other matters of personal hygiene
Light housekeeping and meal preparation
If someone in your family has recently had surgery and needs some assistance during their recovery, contact Assisting Hands for our after surgery home care services.  Our caregivers will keep your loved ones comfortable and help them follow their post-surgery instructions to minimize the risk of setbacks.
Contact Us
Give us a call at (847) 796-6685 to learn more about how we can help your loved ones through the surgery recovery process.
---
Related After Surgery Care Services:
Rehabilitation Care Aides Park Ridge, IL
Stroke Recovery Aides Park Ridge, IL
Cancer Recovery Aides Park Ridge, IL
Recovery Assistance Aides Park Ridge, IL
Post Hospitalization Care Park Ridge, IL
Transitional Care Park Ridge, IL
Post Operative Care Norridge, IL
Post-Operative Care Palatine, IL