Respite Caregivers
Providing informal caregiving services for a loved one is common practice for millions of Americans. It is also common for family caregivers to suffer the negative impacts of caregiving that can affect their everyday well-being. Informal caregivers often experience high levels of stress, lack of sleep, and overall poor health. This impacts their careers, families, and even the ones receiving the care.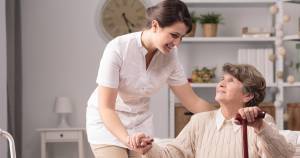 At Assisting Hands Home Care, we offer respite care services in Park Ridge, IL and the Chicago suburbs to give informal caregivers a much-deserved break. We will work around your schedule to get you the time away that you need.
The Effects of Informal Caregiving
By "informal caregivers", we are referring to those who provide caregiving services to a loved one. A common example is an adult providing care for their aging parent. In many cases, these situations lead to a variety of negative effects that should be brought to light as early as possible. If you find yourself in the role of "informal caregiver", we encourage you to take the following points into consideration:
Out of the 65 million+ Americans who provide informal caregiving services for a loved one, roughly 25% are in poor health themselves.
Roughly 2/3 of all informal caregivers are women.
Lack of sleep, increased responsibilities, and added stress are the primary contributors to poor health. They can impact careers, families, and even the quality of care being administered.
By recognizing these statistics, we hope that you can better manage your schedule and expectations, and prepare for the road ahead. We can help you as frequently or infrequently as needed with our respite care services.
Respite Care Park Ridge, IL
For professional respite care services in Park Ridge, IL and the surrounding areas, contact Assisting Hands at (847) 915-6186.
At Assisting Hands, we do everything possible to make our respite care services flexible and effective. We understand that everybody has their own needs, which is why our home care services are completely customizable. We can help on a recurring or case-by-case basis. Either way, we will strive to provide optimal caregiving services, and give you the much-needed break you deserve.
We offer a number of caregiving services in order to help individuals get through their days as easily as possible. While we cannot perform official medical services (such as administering shots), we can provide assistance in almost every other capacity.
This includes:
Contact Us

Our Assisting Hands caregivers are professional, personable, and highly trained to provide excellent care and companionship. We look forward to getting to know you soon, and providing the kind of care that your family deserves.
To learn more about our respite care services, or to schedule an appointment, contact our staff at (847) 915-6186.
---
Related Respite Care Services:
Respite Care Elk Grove Village, IL
Respite Care Services Rolling Meadows, IL
Respite Caregivers Schaumburg, IL
Respite Care Services Hoffman Estates, IL
Respite Care Services Palatine, IL
Respite Care Services Park Ridge, IL
8 Fun Stay At Home Activities for Seniors
Being homebound can be fun for seniors, especially when they know how to make the most of their cozy environment. When the outside weather is rainy, snowy or too sunny, staying engaged at home is a worthwhile consideration. Here are enjoyable stay-at-home activities for seniors of all ages. 1. Virtual Book Clubs Seniors who binge
READ MORE