Call: (847) 796-6685
Many families try to take care of their elderly family members themselves when loved ones require daily assistance. One family member may be the one to provide care, or several members may share the responsibility.
But you may have to provide care for long hours, taking time out of your personal life. Although family caregivers may feel guilty about getting outside help, this is actually the best option. At Assisting Hands, we provide respite care services in Schaumburg, IL to allow family caregivers a break.
Respite Care in Schaumburg, IL
To request a respite caregiver in Schaumburg, IL or the surrounding areas, contact Assisting Hands at (847) 796-6685.
With these services, a trained caregiver will relieve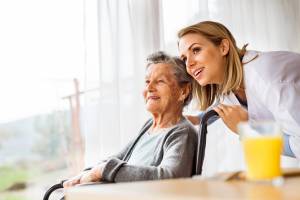 your family caregiver at scheduled intervals, allowing them to have some time off and rest. Caregiving is a demanding task, which can make it important for family caregivers to consider respite care services:
There are 65 million Americans who provide their loved ones with informal care.
Women make up two-thirds of family caregivers.
One-fourth of family caregivers jeopardize their own health because of a lack of sleep, stress, and other issues.
Family caregivers commonly experience negative consequences to their health and personal lives because of the demands of their informal caregiving. It is beneficial for a relative to receive care from a family member because of the familiarity there, but it is important the family caregiver manages his/her schedule to allow for personal time and rest.
With our respite care services, family caregivers can expect the following benefits:
Depression risk is reduced.
Regular breaks happen at scheduled times throughout one or more days.
Stress is relieved, and family caregivers are more energetic.
Get a Free Consultation
If you or another family member provides care for an elderly relative in Schaumburg, IL, contact Assisting Hands to find out more about how our respite caregivers can benefit family caregivers and seniors.
To inquire about respite care services in Schaumburg, IL, give us a call at (847) 796-6685 to schedule a free consultation.
---
Related Respite Care Services:
Respite Care Chicago
Respite Care Rolling Meadows, IL
Respite Care Elk Grove Village, IL
Respite Care Park Ridge, IL
Respite Care Des Plaines, IL
Respite Care Harwood Heights, IL
Respite Care Hoffman Estates, IL
Respite Care Niles, IL
Respite Care Norridge, IL
Respite Care Palatine, IL
Respite Care Rolling Meadows, IL
Park Ridge, IL Respite Care