Call Now: (847) 796-6685
Assisting Hands provides live-in and 24-hour in-home care for seniors and adults in Schaumburg, IL. This allows them constant care, addressing their needs at any time. Our services also give clients the ability to live at home and have a level of independence that isn't found in retirement or nursing homes. Our caregivers are qualified to assist those with physical and/or mental limitations.
Live-In Caregiver Schaumburg, IL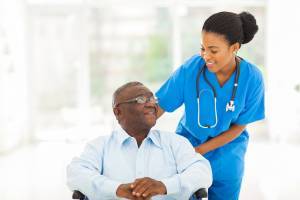 Our live-in care services have been designed to take care of all non-medical needs. Every 3 to 4 days, two caregivers will rotate to live in the home and provide care services. The caregivers simply need a minimum of 5 interrupted hours of sleep each night.
This ensures that they get enough rest to provide clients with tremendous care as needed. Our caregivers are highly trained and certified, and they are qualified to assist with the following activities among others:
Bathing and personal hygiene
Care management: help following doctor's orders, reminders about medicine intake, and more
Cleaning one's residence
Doing errands
Getting around one's residence
Getting dressed in the morning and at night
Helping with emergencies
Meal preparation
Preparation is needed for our live-in care services, as caregivers need to sleep in the client's residence. As such, they need somewhere to sleep and keep their personal content when they're living at the home. Before leaving to rotate shifts, the caregiver will prepare the room for the next live-in caregiver.
24-Hour Home Care Schaumburg
With Assisting Hands' 24-hour home care services, our caregivers will be there to provide uninterrupted care 24 hours a day. Such a service is beneficial for individuals who need constant supervision. Two caregivers will be assigned to one client and will rotate on a 12-hour shift schedule. This guarantees that the caregiver will be awake to provide the best care for his/her client. This also means that the caregivers don't need somewhere to sleep. The specific care provided with our 24-hour in-home care services is the same as what is offered for our live-in care services.
Our Caregivers
You can expect our well-trained caregivers to provide quality home care. Our caregivers who have all been highly trained and certified, and they are insured and bonded to provide care in your loved one's home. In addition, we take the time to develop relationships with our clients, because a great number of them can't leave their home to socialize as often as they may want to. We keep them happy and engaged through conversation and by doing their favorite hobbies with them.
Contact Us
Call Assisting Hands Home Care at (847) 796-6685 for more information about our live-in and 24-hour in-home care services in Schaumburg, IL.
---
Related 24-Hour and Live-In Care Services:
24-Hour and Live-In Home Care Rolling Meadows, IL
24-Hour and Live-In Home Care Elk Grove Village, IL
24-Hour and Live-In Home Care Des Plaines, IL
24-Hour and Live-In Home Care Niles, IL
24-Hour and Live-In Home Care Norridge, IL
24-Hour Care Park Ridge, IL
Live-In Care Park Ridge, IL
Overnight Care Palatine, IL
Overnight Care Hoffman Estates, IL
Overnight Care Elk Grove Village, IL
Overnight Care Park Ridge, IL