Call Now: (847) 796-6685
Many seniors are opting to take advantage of live-in care or 24-hour home care to live out their lives in the comfort of home. This allows them to maintain some level of independence instead of moving to a retirement or nursing home.
At Assisting Hands, live-in and 24-hour home care services in the Niles, IL area. Our caregivers are available around the clock and are dedicated to ensuring the safety and comfort of your loved one.
Live-In Care Niles, IL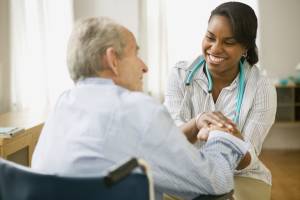 With our live-in care services, our personnel will live in the home of the individual in need and remain for 3 to 4 days at a time. They will take care of any specific, non-medical needs, and then alternate with a second caregiver throughout the week.
By "non-medical needs", we refer to day-to-day activities that can be impossible for those with physical or mental limitations to complete themselves. This includes the following:
Getting into and out of bed
Preparing meals
Bathing and taking care of personal hygiene
Changing clothes
General transportation
Light housekeeping
Responding to emergencies
Care management (e.g. medication reminders, following doctor's orders, etc.)
Through the services of live-in caregivers, we also provide your loved one with much needed companionship. Depression, loneliness, and other psychological issues can be impossible to fully address without the regular presence of a friend. Our caregivers make a point to build relationships while providing care.
24 Hour Home Care
Our 24-hour care services are slightly different from hiring a live-in caregiver. Through these services, you will receive attentive care 24 hours a day, whereas our live-in caregivers must get at least 5 hours of uninterrupted sleep. You also do not need to provide our 24-hour care personnel with a place to stay.
This is achievable because we offer the services of two caregivers on rotating 12-hour shifts. This means somebody will always be awake and ready.
How to Prepare
To utilize the services of a live-in caregiver, you will need to make arrangements for them to sleep at night for at least 5 uninterrupted hours per day. This also means the caregivers will need space to keep some of their personal belongings. At the end of their shift, the caregiver will clean the room and wash the sheets in preparation for the next caregiver.
To receive 24-hour care, no specific preparation is required. However, in both cases, we still make a point to meet with the individual in need, as well as family members, to determine specific requirements.
Get a Free Consultation
For live-in or 24-hour home care services in the Niles, IL area, contact Assisting Hands at (847) 796-6685. We are proud to provide free consultations.
---
Related Live-In and 24-Hour Home Care Services:
Live-In and 24-Hour Home Care Des Plaines, IL
Live-In and 24-Hour Home Care Elk Grove Village, IL
Live-In and 24-Hour Home Care Norridge, IL
24-Hour Home Care Park Ridge, IL
Live-In and 24-Hour Home Care Rolling Meadows, IL
Live-In and 24-Hour Home Care Schaumburg, IL
Live-In Caregiver Park Ridge, IL