Call Now: (847) 796-6685
One of the most difficult aspects of aging is suffering from memory loss. It occurs within millions of Americans across the country and can do a great deal of damage to minds and bodies alike. At Assisting Hands, we provide Alzheimer's and dementia care services for senior citizens and adults with disabilities in Niles, IL.
We take care of day-to-day tasks that may be impossible for affected individuals to complete on their own. We also work with our clients to stimulate greater brain activity. This latter component of our services can do wonders in preserving memory functions.
More on Memory Loss
While Alzheimer's disease is simply one form of dementia, it is shown to affect roughly 10% of U.S. citizens 65 years of age or older. This means that millions more are affected by other forms of dementia and memor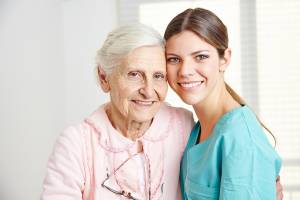 y loss, as well. Short-term memories are often the first to go and can progress until individuals are unable to hold conversations or take care of themselves.
If you or a loved one is approaching this age bracket, it is important to be aware of common signs and symptoms of memory loss. Among them include:
Pervasive forgetfulness when it comes to completing day-to-day tasks
Short-term memory loss and difficulty holding conversations
Aimlessly wandering around the home
Incontinence
Agitation due to forgetting things
If you notice these or similar behaviors from a loved one, they may be in need of memory care. Being proactive can slow their rate of memory loss and help them remain mentally aware.
Memory Care in Niles, IL
For memory care services in the Niles, IL area, contact Assisting Hands at (847) 796-6685.
At Assisting Hands, we provide Alzheimer's and dementia care services in the comfort of the affected individual's home. This is recommended for those suffering from memory loss as they would suffer less compared to living in a retirement home. Through our services, we manage the everyday needs of our clients, and participate in engaging and mentally stimulating activities to preserve existing memory functions.
The most effective way to provide memory care is to really get to know our clients. Understanding their background, history and knowing their family is a tremendous benefit because long-term memories last longer. This gives our caregivers a topic to focus on to keeps clients engaged. We also participate in their hobbies, or pastimes to keep them focused, and any physical activities (such as going for walks).
Contact Us
To learn more about our Alzheimer's and dementia care services in the Niles, IL area, or to schedule an appointment, give us a call at (847) 796-6685. We proudly provide in-home consultations.
---
Related Dementia Care Services:
Dementia Care Chicago, IL
Dementia Care Elk Grove Village, IL
Dementia Care Harwood Heights, IL
Dementia Care Hoffman Estates, IL
Dementia Care Des Plaines, IL
Dementia Care Norridge, IL
Dementia Care Palatine, IL
Dementia Care Park Ridge, IL
Dementia Care Rolling Meadows, IL
Dementia Care Schaumburg, IL
Park Ridge, IL Dementia Care