Call Now: (847) 796-6685
Every day, millions of individuals are affected by memory loss caused by some form of dementia. It inhibits their ability to take care of themselves adequately and can even put them in a number of risky situations.
At Assisting Hands, we provide Alzheimer's and dementia care services in Harwood Heights, IL. Through these services, we help suffering individuals accomplish their day-to-day tasks, and keep them mentally engaged in order to slow the progression of memory loss.
More on Dementia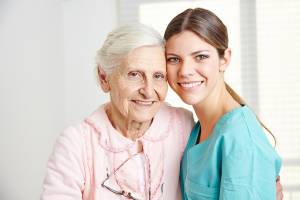 In the United States alone, roughly 10% of citizens 65 years of age or older suffer from Alzheimer's disease. Unfortunately, this is only one type of dementia. This means that there are many more who struggle with memory loss. Failing to properly address these degenerative diseases can result in severe injury and worse.
In order to begin treatment, one must first identify the problem. When it comes to memory loss, there are several common signs and symptoms that are easy to identify. General forgetfulness is typically where memory loss begins because short-term memories are often the first to go. As the situation worsens, affected individuals may become agitated easily as they recognize their inability to remember basic things. In more severe cases, victims are known to wander around the home aimlessly, or suffer from incontinence.
Memory Care in Harwood Heights, IL
For memory and dementia care services in the Harwood Heights, IL area, contact Assisting Hands at (847) 796-6685.
Dementia Care Harwood Heights, IL
At Assisting Hands, we will provide you or your loved one with superior services and greater peace of mind. Our caregivers are highly trained in memory care services and truly concerned about your well-being. We make a point to get to know our clients, which can make a big difference when it comes to memory care.
We begin by determining the types of services needed by meeting with affected individuals and their loved ones. This allows us to learn more about the person suffering from dementia, and tailor our services around their needs. In addition to providing standard, non-medical care as needed, we specifically work to preserve memory functionality. We do this through the following:
Learning about the background, history, and family of our clients (conversations about these long-term memories are more fruitful since short-term memories are commonly the first to go)
Participating in mentally stimulating activities and hobbies to keep clients engaged
Getting out of the house and going for walks, if possible
General companionship
Free Consultation
To learn more about how our caregivers can assist you through this difficult time, simply contact our representatives at (847) 796-6685.
At Assisting Hands , we are proud to assist those in need in the Harwood Heights, IL, area through our Alzheimer's and dementia care services. We look forward to getting to know you soon.
---
Related Services:
Alzheimer's Care Palatine, IL
Alzheimer's Care Park Ridge, IL
Park Ridge, IL Alzheimer's Care
Alzheimer's Care Hoffman Estates, IL
Alzheimer's Care Des Plaines, IL
Alzheimer's Care Elk Grove Village, IL
Alzheimer's Care Niles, IL
Alzheimer's Care Norridge, IL
Alzheimer's Care Rolling Meadows, IL
Alzheimer's Care Schaumburg, IL
Alzheimer's Care Chicago, IL