Call: (847) 796-6685
Millions of senior citizens are affected by dementia in one form or another which impacts their daily lives.  Those who suffer from dementia experience issues with memory, confusion, and general agitation which can make it dangerous for them to live by themselves.  Alzheimer's disease is one form of dementia that will develop gradually to have some particularly severe effects that require near constant supervision.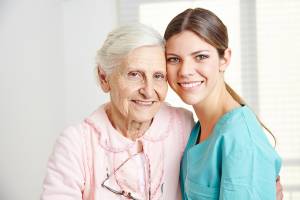 If you have elderly relatives that are dealing with Alzheimer's or a different form of dementia, you do not have to handle the care alone.  Assisting Hands Home Care provides Alzheimer's and dementia care to help those affected in Hoffman Estates, IL live safely and comfortably in their own homes.
Memory Care in Hoffman Estates, IL
Providing in-home care for seniors who are affected by dementia is beneficial because they will react better to the care in the familiar surroundings of their home.  Our caregivers at Assisting Hands Home Care are specially trained to provide care for seniors with all forms of dementia including Alzheimer's disease.
We will work with you to create a care plan that accommodates your loved ones' specific needs and we will also include memory care exercises to help reduce the effects of memory loss.  Having our trained and compassionate caregivers present will give you some peace of mind knowing that your loved ones are in good hands.
In-Home Dementia Care
For professional memory care services in Hoffman Estates, IL and the surrounding areas, contact Assisting Hands at (847) 796-6685.
The symptoms of dementia may differ slightly between cases, but they generally consist of the following:
Forgetfulness: The loss of short term memory is usually one of the earliest symptoms of dementia. Those affected may have difficulty finishing daily tasks if they forget what they were doing, and they may even completely forget to do some important things like eat.
Wandering: Dementia or Alzheimer's may cause those affected to wander aimlessly looking for a particular object or person. Unsupervised wandering can be very dangerous.
Incontinence: This is a common symptom in the later stages of dementia and Alzheimer's. The progression of the disease will cause those affected to lose their ability to control their bladder and bowels.
Agitation: Many who suffer from dementia or Alzheimer's become agitated because they are aware of their increasing limitations.
Our caregivers at Assisting Hands Home Care will help create a safe environment for those with dementia or Alzheimer's to help keep them comfortable and reduce the risk of an injury.  Paths within the home will be cleared of any obstructions so they can wander safely through the home, and our caregivers will react to agitation with positive reinforcement.  We will also help those in the later stages with their personal hygiene including bathing and dressing as well as incontinence care.
Dementia Care Hoffman Estates, IL

Our individualized memory care services are the main aspect of our dementia and Alzheimer's care.  Our caregivers will engage with your loved ones through conversation and various activities to help improve memory and slow memory loss.  These services consist of the following:
Background and History: We will engage your loved ones in conversation about their personal history and favorite activities. This type of conversation will allow them to think from their long-term memory and help us build a personal connection by getting to know them.
Engaging Activities: Our caregivers will go on walks and play games with your loved ones for mental stimulation.
Family Members: We will consult with you and other members of your family to create a personalized care plan that works best for your loved ones.
Kindness and Compassion: We understand that those with dementia or Alzheimer's can become easily agitated which is why we treat your loved ones with kindness and compassion. Each of our caregivers has received special training to care for those with degenerative cognitive diseases.
Seniors suffering from dementia or Alzheimer's disease need consistent care to live safely in their homes and this can be difficult for families to provide themselves.  At Assisting Hands, we have trained caregivers ready to help those who are affected by these cognitive diseases.
Contact Us
If you have relatives in Hoffman Estates, IL affected by dementia or Alzheimer's disease, give us a call at (847) 796-6685 to learn more about our Alzheimer's and dementia care services.
---
Related Memory Care Services:
Memory Care Park Ridge, IL
Memory Care Palatine, IL
Park Ridge, IL Memory Care
Memory Care Rolling Meadows, IL
Memory Care Schaumburg, IL
Memory Care Chicago, IL
Memory Care Des Plaines, IL
Memory Care Elk Grove Village, IL
Memory Care Harwood Heights, IL
Memory Care Norridge, IL
Memory Care Niles, IL
---
Can Sugar Cause Dementia?
Dementia is a general term that describes the loss of memory and cognitive abilities an elderly person may experience, causing them to struggle with daily living. As the disease progresses, the symptoms will worsen. Seniors will experience memory loss and a decline in cognitive abilities. Eventually, affected elderly individuals will not be able to function
READ MORE