Call Now: (847) 796-6685
Memory loss is a major problem for millions of seniors across the United States. At Assisting Hands, we provide Alzheimer's and dementia care services in Chicago, IL.
When these degenerative mental diseases are not addressed, they can quickly consume an individual, and make it difficult to even hold basic conversations. It also leads to the need for in-home care. However, when proactive measures are taken, individuals can preserve their memories and mental functions for much longer than they otherwise would have been able to do. Our services address all of these factors.
How to Spot Memory Loss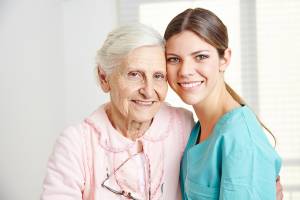 Memory loss can appear seemingly out of nowhere, and progress rapidly if it is not addressed. It tends to begin with short-term forgetfulness and can lead to severe confusion and other issues. In the United States, roughly 10% of citizens 65 years old or older suffer from Alzheimer's disease, and this is simply one form of dementia. If you or a loved one is approaching this age, it is important to be mindful of potential memory loss. Typical signs and symptoms include:
General forgetfulness (such as forgetting to eat, take pills, bathe, etc.)
Wandering aimlessly around the home
Incontinence
Agitation (this is especially common when individuals are aware that they are losing their memory)
Memory Care in Chicago, IL
For memory care services in the Chicago, IL area, contact Assisting Hands at (847) 796-6685.
Dementia Care Services
At Assisting Hands, we provide in-home care services to help those suffering from memory loss get through their day-to-day activities. We also take part in engaging and mentally stimulating activities to slow down degenerative mental diseases.
Studies have shown that long-term memory often lasts longer than short-term memory. This is why our caregivers take the time to get to know your loved one's family and history. Focusing on these topics keeps them mentally engaged and less frustrated. It is great for building relationships, too. Additionally, we participate in hobbies and activities that keep individuals focused and happy. Physical exercise, such as going for walks, is great because it keeps blood flowing.
For those who have suffered a significant amount of memory loss, we can provide in-home care services. Our caregivers are trained, bonded and insured so we can address any of your non-medical requirements. From meal preparation and light housekeeping to general transportation and hygiene assistance, we are more than happy to help. Best of all, we perform these services and more in the comfort of your home.
Free Consultation
To learn more about our Alzheimer's and dementia care services, or to schedule an appointment, simply contact our Assisting Hands Home Care representatives at (847) 796-6685.
We are proud to assist seniors in Chicago, IL, and look forward to meeting you soon!
---
Related Dementia Care Services:
Dementia Care Services Des Plaines, IL
Dementia Care Services Elk Grove Village, IL
Dementia Care Services Harwood Heights, IL
Dementia Care Services Hoffman Estates, IL
Dementia Care Services Niles, IL
Dementia Care Services Norridge, IL
Dementia Care Services Palatine, IL
Dementia Care Services Park Ridge, IL
Dementia Care Services Rolling Meadows, IL
Dementia Care Services Schaumburg, IL
Park Ridge, IL Dementia Care Services Park Ridge, IL