Call Now: (847) 915-6186
Dementia is an unfortunately common degenerative mental disease that affects millions of seniors across the globe. In the United States, roughly 10% of citizens 65 years of age or older suffer from Alzheimer's disease alone (which is simply one form of dementia). As the disease worsens, individuals eventually reach a point where they cannot adequately take care of themselves. At Assisting Hands Home Care, we assist affected seniors in Park Ridge, IL, through our Alzheimer's and dementia care services.
In Home Care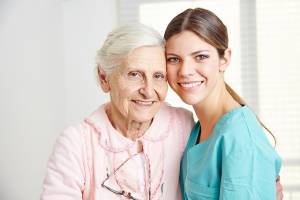 Memory care services are best administered in the comfort of the client's home. This is because the familiar environment is comforting and reduces stress. It can be extremely difficult for an affected individual to go through this period of their life because they are often aware of their fading mind. Through our services, we do everything possible to make sure your loved one is comfortable. Our caregivers go through extensive training to provide quality memory care services. We engage in activities designed to preserve memory function and help take care of typical day-to-day tasks.
Signs of Memory Loss
There are a variety of signs and symptoms that point to memory loss as their cause. They are also the reasons why it is impossible for affected individuals to live on their own. Among them include the following:
Wandering: A common sign of dementia is when an individual aimlessly wanders around the home. This can be dangerous for elderly individuals who do not have the best balance.
Forgetfulness: Short-term memory loss is one of the first signs of dementia or Alzheimer's disease. Taking pills, bathing, eating, and similar tasks are often forgotten, while it can also be difficult for some to hold conversations.
Agitation: Many affected individuals get frustrated when they realize they are losing control of their memories.
Incontinence: As these degenerative diseases get worse, some individuals will lose control of their bladders and bowels.
Why Trust Our Alzheimer's and Dementia Care Services
Our Assisting Hands Home Care caregivers are highly vetted, trained, and qualified to provide memory care services for your loved one. It is our ultimate goal to get to know all of our clients on a personal level and address their needs as proficiently as possible. To improve the quality of life of your loved one, we focus on the following:
History and Background: Our caregivers spend the time to learn your loved one's background, hobbies, and interests. Since long-term memory lasts longer than short-term memory, this helps seniors stay engaged and thoughtful.
Advice from Family: You know the needs of your loved one the best. We work with families to develop customized care plans.
Activities: Remaining engaged is the best way to combat memory loss. We encourage walks, card games, conversations, and similar activities.
Compassion: We understand how difficult of a time this can be for everybody involved. This is why we always treat our clients with the utmost kindness and compassion.
To learn more about our Alzheimer's and dementia care services, or to schedule an appointment, contact our Assisting Hands Home Care representatives at (847) 915-6186. We are proud to work with those in need in Park Ridge, IL.