Call Now: (847) 915-6186
As individuals age, it becomes increasingly difficult to do everyday tasks. This can be attributed to memory loss, physical limitations, and similar causes, but the result is the same: caregiving services are needed to get through the day. At Assisting Hands Home Care, we provide full-service senior in-home care services to those in need in Park Ridge, IL. We help seniors get dressed, bathe, cook, use the restroom, pick up groceries, and more. No matter your loved one's unique needs, we will address them.
Comprehensive In Home Care Services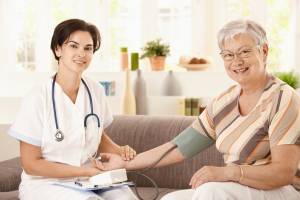 At Assisting Hands Home Care, we supply caregivers who are trained in a number of in-home care services. Our caregivers always show compassion and respect to our clients, as we understand how difficult it can be to lose independence by relying on somebody else. Our senior care services are highly customizable, and we work with families to determine the best course of action. Our personal assistance services include help with the following:
Moving Around the Home: We help individuals get up from chairs, out of bed, etc.
Morning and Evening Routines: We help clients use the restroom, take care of personal hygiene, and more.
Bathing: We reduce the risks of bathing and showering, which are particularly high for seniors with limited mobility.
Getting Dressed: We eliminate the need for seniors to awkwardly bend and stretch to change clothes in the morning and at night.
Using the Restroom: We provide minimal or full restroom assistance based on your loved one's needs.
Incontinence: If your loved one struggles with incontinence, we will assist with cleaning up the aftermath and changing clothes.
Preparing Meals: Standing for long periods of time near a hot stove and oven is dangerous for seniors. This is especially true when handling small or awkwardly shaped objects. We prepare and serve meals, help with eating (if required), and clean up afterward.
Grooming: Many seniors still like to look good, which is why we help them with their personal appearance.
Housekeeping: We perform light housekeeping services to ensure that your loved one's living conditions remain safe and sanitary. This is important for their overall health. Tasks can include washing dishes, dusting, vacuuming, mopping, and similar duties.
General Errands: Many seniors cannot drive safely. We are happy to shop for groceries, pick up medications, deliver mail, drive to and from doctor's appointments, etc.
Last, but certainly not least, we provide your loved one with companionship. Depression is common for many seniors because of their failing minds and bodies, as well as general loneliness. Having a friend to talk to, participate in activities with, and simply get to know is highly underrated.
If you would like to utilize our senior in-home care services, we encourage you to contact our representatives at (847) 915-6186. At Assisting Hands Home Care, we are happy to help those in need in the Park Ridge, IL, area.