Call Now: (847) 796-6685
In Palatine, IL and the neighboring communities, Assisting Hands helps elderly individuals with elderly care services. When working with our caregivers, you can have the peace of mind knowing your loved one is happy and safe at home.
Elderly Home Care in Palatine, IL
For elderly home care services in the Palatine, IL area, contact Assisting Hands at (847) 796-6685.
When elderly individuals need help to live safely at home, families seek the best for their loved ones. Some families have informal caregivers, but not everyone is this fortunate. But even with family caregivers, they may not be able to meet all of the senior's needs, so a professional caregiver is best suited.
At Assisting Hands, we provide comprehensive elderly care in Palatine, IL to help seniors age safely and comfortably at home.
One of our staff members will first visit the client's home to conduct an evaluation and care assessment. Using this information and any input from you and your loved ones, a personalized care plan is developed to cater to their needs. In the event any care needs change, we can alter the plan to accommodate the changes.
Our elderly home care plans can include the following services:
Activities of daily living (ADLs) help
Meal preparation
Transportation and errands
Light housekeeping
Hospice care
Respite care
Based on your loved one's care needs, our elderly care can also include the following services: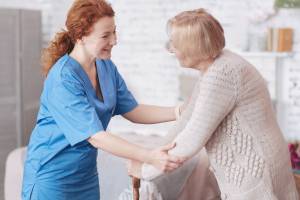 Personal Care: From bathing to restroom use to getting dressed, our caregivers assist your elderly loved ones with various personal care tasks.
Fall Prevention: By maintaining clear paths and walkways in the home, our caregivers decrease the risk of falls. We also guide seniors throughout their home to support and limit the potential for falls.
Companionship: Developing a personal relationship, our caregivers will be companions to your elderly loved ones. We make conversation and accompany them in their favorite activities and hobbies.
Meal Preparation: Sometimes, seniors are unable or do not cook for themselves. In such a case, our caregivers take the responsibility of daily, nutritious meal preparation. If your elderly loved one has any dietary restrictions, they are taken into account.
Transportation and Errands: For seniors who don't drive, our caregivers provide transportation so they can get to their events and appointments. We can also run errands.
Light Housekeeping: Maintaining a clean living space is important, but it can be a tough task for elderly individuals. So our caregivers conduct light housekeeping to maintain a clean and healthy living space. We will empty the trash, vacuum, dust, do laundry, and more.
Respite Care: Even if your loved one has a family caregiver, they will need a break to relax and take care of themselves. This is why we offer respite care services, which includes one of our caregivers caring for your loved one in place of the family caregiver. This way, seniors continue receiving care while the family caregiver gets a well-deserved break.
Alzheimer's and Dementia Care: For individuals suffering from Alzheimer's disease or another form of dementia, it's best they receive care at home since it's familiar and comfortable. Our caregivers are trained to provide memory care, such as facilitating memory exercises to slow memory loss.
Hospice Care: If you have a loved one with a terminal illness or limited life expectancy, providing care while managing end-of-life affairs is difficult. Hospice care assistance can help your loved one, providing more time for visitation or handling other affairs.
Free Consultation
Call Assisting Hands at (847) 796-6685 if you have a loved one in need of professional elderly care services in Palatine, IL.
---
Related Services:
Elderly Care Hoffman Estates, IL
Elderly Care Park Ridge, IL
Park Ridge, IL Elderly Care
Elderly Care Harwood Heights, IL
Elderly Care Niles, IL
Elderly Care Norridge, IL
Elderly Care Elk Grove Village, IL
Elderly Care Chicago, IL
Elderly Care Des Plaines, IL
Elderly Care Rolling Meadows, IL