Call Now: (847) 915-6186
Family members of loved ones who have physical or mental limitations recognize that the night can be a dangerous time. Incidents occur in greater frequency for a number of reasons, such as limited visibility, disorientation, and fatigue. At Assisting Hands Home Care, we understand the difficulties of providing attentive care during these times, which is why we offer the services of overnight caregivers. They will remain alert throughout the night to address any needs that arise. We currently offer these services to those in need in the Palatine, IL, community.
Informal Overnight Care
Events regularly occur that cause family members of loved ones in need to provide informal overnight care. Sometimes it is the case that the loved one fell while attempting to use the restro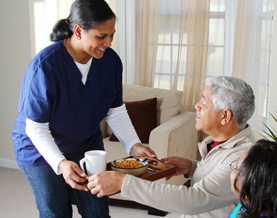 om, or they began to struggle with getting out of the bed in the morning. While it is a natural instinct to stay at their home overnight to provide assistance, this level of care is often inadequate. This is simply because informal caregivers have their own jobs and immediate family members to worry about during the day and cannot remain attentive throughout the entire night. As a result, accidents are still likely to occur, and the caregiver's health will more than likely begin to decline due to stress and a lack of sleep.
Professional Overnight Care
At Assisting Hands Home Care, our professional overnight caregiving services will eliminate the shortfalls associated with informal care. This is because it is the job of our caregivers to remain alert throughout the night and respond on a moment's notice to any needs that arise. Our caregivers can remain in the same room as your loved one, or in another area of the home depending on your preferences.
At the end of the day, our goal is to provide those in need of assistance with the exceptional care that they deserve, and their family members with greater peace of mind. To ensure this, all of our caregivers must pass an extensive screening and training process before they can interact with clients. They must also become trained in CPR and first aid. As a result, all of our caregivers are licensed, bonded, and insured, to provide overnight caregiving services.
While the services we provide are strictly non-medical (we cannot provide injections or assist with changing bandages, for example), there are a number of ways in which we can help. They include assistance with the following and more:
Changing clothes in the morning and at night
Addressing personal hygiene before bed
Getting into and out of the bed
Using the restroom as necessary
Medication reminders
Responding to other needs on a moment's notice
It is also important to note that these services are beneficial for more than just seniors. We assist people who have needs due to limited vision, a physically-limiting surgery, a history of falling, memory loss, and/or similar complications.
To learn more about how our overnight caregivers can help your loved one, contact our Assisting Hands Home Care representatives at (847) 915-6186. We proudly assist those in need in Palatine, IL, and look forward to working with you soon.