Call Now: (847) 796-6685
When your loved one finds themselves in need of help, many of us rightfully feel it is our duty to take care of them. This is true when a parent begins to suffer from complications due to old age, just as it is when a family member undergoes a surgery that limits their ability to take care of day-to-day tasks.
The problem is these situations can result in a lot of added responsibilities and stressors for the informal caregiver, which can lead to declining health. At Assisting Hands, we provide respite care services for families in Palatine, IL, who need a break from providing this care.
Informal Caregiving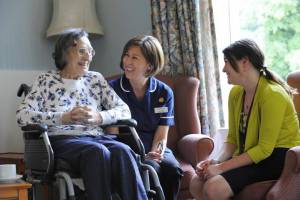 It is completely natural to feel stressed out when providing informal care. Over 65 million Americans provide this kind of care for a loved one, and roughly 25% of them report they are in poor health. There are a number of factors that contribute to this startling statistic which include the following:
The stress of seeing a loved one struggle to take care of themselves
Lack of sleep due to added responsibilities and stress
What amounts to another job added on top of an existing career and familial obligations
At Assisting Hands, we have spoken to a number of informal caregivers who felt bad about having trouble caring for their loved one; they felt guilty for wanting to take a break. But it's completely natural to have these thoughts, and there are very legitimate reasons to take a break. For starters, it can improve your own health, and result in better care for your loved one.
Respite Caregiver Palatine, IL
For compassionate respite care services in Palatine, IL, contact Assisting Hands at (847) 796-6685.
Respite Care Services
Through our respite care services, you can receive the break you deserve, and your loved one can continue to receive the exceptional care they deserve. We work around your specific needs and can provide these services on a short-term or long-term basis.
Some of our clients use this service to go on a vacation with their immediate family, while others bring us in regularly when their working schedule does not allow them to provide home care. Once a timetable is established, and we understand your loved one's needs, we can begin providing care. We can also provide:
Nutritious meals
General transportation
Light housekeeping services
Transfer assistance around the home
Incontinence care
Help with changing outfits and getting dressed
Medication reminders
Help with personal hygiene
Our caregivers are all licensed, bonded, and insured to provide the non-medical services listed above. They are also trained in CPR and first aid and can assist in a number of emergency situations.
Get a Free Consultation
To learn how you can benefit from our respite care services, contact our Assisting Hands Home Care representatives at (847) 796-6685. We proudly assist families in need in Palatine, IL, and look forward to helping you soon.
---
Related Respite Care Services:
Respite Home Care Elk Grove Village, IL
Respite Home Care Hoffman Estates, IL
Respite Home Care Park Ridge, IL
Park Ridge Respite Home Care
Respite Home Care Rolling Meadows, IL
Respite Home Care Schaumburg, IL
Respite Home Care Des Plaines, IL
Respite Home Care Norridge, IL
Respite Home Care Niles, IL
Respite Home Care Harwood Heights, IL
Respite Home Care Chicago, IL