Call Now: (847) 796-6685
Falls are the top cause for the death and serious injuries in elderly individuals over 65 years old, according to the Centers for Disease Control and Prevention (CDC); they can be caused by environmental factors, medications, and illnesses.
Data also suggests that, within six months of the first fall, there's a 75 percent chance the senior will suffer another fall.
Serving the Palatine, IL, area, Assisting Hands provides fall prevention services for seniors to reduce the risk of falls.
Talk to Your Doctor
Before contacting a professional for fall prevention, the person who fell (or almost suffered a fall) must speak with their physician.
Elderly individuals often take various kinds of medicines, and how they react to them is different for everyone. You can decrease your chance of falling by reviewing your medications, how they react with others, and your reactions to them.
It's also important to follow prescription instructions provided by your doctor. Whether a certain dosage is required, they are taken at a particular time, or with food, the instructions must be followed as improper intake can cause symptoms like balance loss and dizziness.
Seniors can also have weakened muscles, so it's important to inquire about physical exercises that provide balance training. This is also helpful as increasing your physical activity, in a controlled manner, can aid in fall prevention. But before starting such training, it's beneficial to have an audiologist and physical therapist conduct an evaluation.
Keep Your Home Clean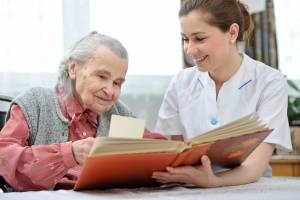 Fall prevention can also be done by maintaining a tidy home. With less clutter, dirt, and debris, there are no allergens nor tripping hazards, contributing to a healthier environment. But cleaning can be tough for elderly individuals.
It's beneficial to take the following actions:
Add handrails, handles, and grab bars to your stairways and bathrooms
Wear non-skid shoes instead of sandals or slippers
Keep the home well-lit
Remove area rugs and carpeting that are loose
Remove loose cords from the floor
Don't use ladders or step stools but keep items in easy-to-reach areas or ask for help
Maintain a dry floor
Consider In-Home Care
Within our home care services, Assisting Hands provides fall prevention to minimize falling risks; consider taking advantage of these services if you or a loved one could use the help.
Our caregivers are friendly, have been trained to identify falling risks, and to understand their causes. We will provide help with the following:
Medication reminders
Meal preparation
Getting out of bed and up from chairs
Cleaning the home
Partaking in mental stimulation games
Holding conversations
Physical therapy exercises
Included within our home care services, fall prevention will ensure complete safety for you or your loved one. Our home care plans can also include additional services, such as meal preparation, transportation, and light housekeeping.
Contact Us
To schedule a free consultation regarding our fall prevention services in the Palatine, IL area, contact Assisting Hands at (847) 796-6685.
---
Related Fall Prevention Services:
Fall Prevention Park Ridge, IL
Care Management Park Ridge, IL
Personal Emergency Response System Park Ridge, IL
Medical Alert System Park Ridge, IL
After Surgery Care Park Ridge, IL
Transitional Care Park Ridge, IL
Post-Operative Care Palatine, IL