Call Now: (847) 796-6685
In Chicago, IL, there are countless seniors who need some sort of in-home care to get through their day. Whether it is assistance with preparing meals, picking up groceries, or getting around the house, we can help through our home health care services.
We understand the needs of those with physical or mental limitations and do everything in our power to provide affected individuals, and their loved ones, with greater peace of mind.
The Benefits of a Caregiving Agency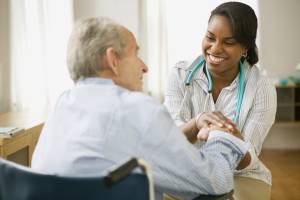 Many seniors want to retire and grow old in the comfort of their own homes; however, they eventually need some sort of assistance to do so. When it comes to in-home care, there are three general ways in which it can be provided:
Informally by a loved one
Professionally by an individual caregiver
Professionally by a caregiving agency
Informal caregiving services are very common (roughly 65 million Americans care for a loved one in need). The problem is that these duties must be added on top of caring for immediate family, careers, and other day-to-day tasks. As a result, many experience high levels of stress, and get burned out rather quickly.
Individual caregivers are nice when it is somebody that you know and trust. The main problem, though, is that you are then responsible for any emergency rescheduling. You are also in charge of hiring and firing inadequate caregivers.
Home care agencies address many of the problems explained above. At Assisting Hands Home Care, we offer the services of a variety of trained and qualified caregivers. We handle scheduling needs and do everything possible to provide you with the best fit.
Home Health Care Chicago, IL
Give Assisting Hands a call at (847) 796-6685 for home care services in the Chicago, IL area.
When it comes to our specific services, there are really no limits (assuming you are in need of non-medical care). Our caregivers are not qualified nurses, but they are trained in CPR and first aid, as well as a number of in-home care and senior care services. We can assist you or your loved one with the following and more:
Performing daily activities (e.g. using the restroom, getting dressed, bathing, etc.)
Preparing and consuming meals
Cleaning up around the house (e.g. vacuuming, sweeping, mopping, doing laundry, etc.)
Picking up groceries, medication, etc.
Driving to the doctor's office, religious events, family gatherings, etc.
Overall care management (e.g. medication reminders, following dieting restrictions, performing exercises ordered by the doctor, etc.)
24-hour care and live-in care
Companionship and social engagement
Contact Us
At Assisting Hands Home Care, all of our caregivers are licensed, bonded, and insured to provide the type of home care services outlined above. To learn more about our home health care services, or to schedule an appointment, we encourage you to contact our representatives at (847) 796-6685.
We operate in the Chicago, IL, area, and look forward to meeting you soon!
---
Related Services:
In-Home Care Services Des Plaines, IL
In-Home Care Services Elk Grove Village, IL
In-Home Care Services Harwood Heights, IL
In-Home Care Services Hoffman Estates, IL
In-Home Care Services Niles, IL
In-Home Care Services Norridge, IL
In-Home Care Services Palatine, IL
In-Home Care Services Park Ridge, IL
In-Home Care Services Rolling Meadows, IL
In-Home Care Services Schaumburg, IL
Park Ridge, IL In-Home Care Services