Call Now: (847) 796-6685
In the olden days, the only option available for seniors to live safely was at nursing homes or assisted living facilities. But thanks to in-home care services, they can now stay at home, allowing them to retain some independence and control of their own lives.
Serving the Schaumburg, IL, area, Assisting Hands provides home health care services for elderly individuals and disabled adults.
We provide a myriad of in-home care services to help seniors and disabled adults. Our services include senior in-home care, elderly care, respite care, personal care and companionship, and memory care for Alzheimer's and dementia patients. With these services, clients are assigned one of our trained, licensed caregivers.
Home Care in Schaumburg, IL
For home care services in the Schaumburg, IL area, contact Assisting Hands at (847) 796-6685.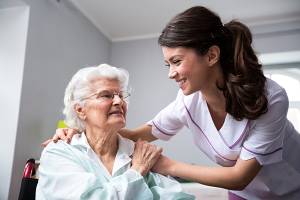 With home health care services in Schaumburg, IL, Assisting Hands helps seniors and disabled adults with daily living tasks at home. Our services are customized to meet your loved one's specific needs. Our caregivers are properly insured, licensed, and bonded, and treat clients with respect and compassion.
When contacting Assisting Hands for in-home care, we will conduct a care assessment and a safety evaluation of the home. This information is used to create a care plan and schedule that works for everyone.
Our Home Health Care Services
For Assisting Hands Home Care's home health care services, call us at (847) 796-6685. The following can be included within our home care health plans:
Activities of Daily Living (ADLs) and Personal Care: For seniors with limited cognitive abilities or mobility, activities of daily living (ADLs) might be tough. We help with self-care tasks, such as bathing and restroom use, so your loved ones can go about their days.
Light Housekeeping: Whether it be dusting or vacuuming, housekeeping isn't always easy for elderly individuals without help. We provide assistance for housekeeping tasks, including laundry, mopping, taking out the trash, and more.
Meal Preparation: Some seniors may have trouble cooking, resulting in health issues and malnourishment. We prepare meals for seniors to ensure proper nutrition.
Transportation and Errands: When seniors give up driving privileges, they give up some freedom and independence. We can restore it with transportation and errands services.
Companionship: Our caregivers are more than just caregivers for seniors; we will be their companions through participation in fun activities, favorite hobbies, and conversation.
Alzheimer's and Dementia Care: When Alzheimer's and dementia patients receive care, it must be consistent and done at the patient's home. Their home is a familiar place, so it provides comfort. With properly trained caregivers to provide memory care services, you can trust your loved one will receive effective care through memory exercises to slow memory loss. Our caregivers also know how to appropriately respond to mood swings and agitation.
Respite Care: Some people act as an informal caregiver for an elderly relative, but it's demanding to provide care for a loved one. Informal caregivers often take time from their career and family, developing high stress levels, lacking sleep, and eventually health issues. With Assisting Hands' respite care services, we can give your family caregiver a well-deserved, necessary break. We assign a caregiver to your elderly relative so they continue to receive the care they need while their family caregiver takes time off.
Hospice Care: It's tough to learn a relative has a terminal illness or a limited life expectancy. Assisting Hands can help and comfort your loved one with hospice care assistance. This way you can manage personal matters and spend time with your loved one.
Personalized Home Health Care: Assisting Hands personalizes home care plans for your loved ones to specifically meet their needs. We also consider their schedule and medical history.
Contact Us
For a free in-home consultation regarding Assisting Hands home health care services in Schaumburg, IL, give us a call at (847) 796-6685.
---
Related Home Care Services:
In-Home Care Services Park Ridge, IL
In-Home Care Services Hoffman Estates, IL
In-Home Care Services Palatine, IL
In-Home Care Services Norridge, IL
In-Home Care Services Harwood Heights, IL
In-Home Care Services Niles, IL
In-Home Care Services Rolling Meadows, IL
In-Home Care Services Elk Grove Village, IL
In-Home Care Services Chicago, IL
In-Home Care Services Des Plaines, IL
Park Ridge, IL In-Home Care Services