Call Now: (847) 915-6186
A growing desire for many seniors in Park Ridge, IL is to retire and age in the comfort of their own home. While they may enjoy the independence, care is required to remain in the home as memories fade and bodies fail.
At Assisting Hands, we provide home care services in Park Ridge, IL and the surrounding areas to help seniors (and others in need) enjoy the independence of living at home.
Styles of In-Home Care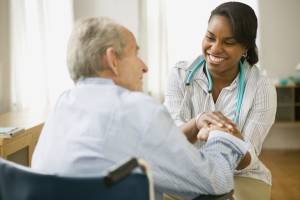 There are three types of in-home care that individuals can receive:
Informal care provided by a loved one
Professional care provided by a single caregiver
Professional care provided by an agency
Each method has pros and cons, but there are certain benefits that cannot be ignored when it comes to working with an agency, especially Assisting Hands. For example, we handle any emergency scheduling of services, and have multiple caregivers from which to choose. Our caregivers are trained to provide a variety of services and are bonded and insured. We also implement a strict screening process to guarantee only qualified candidates can receive our training, and ultimately work with our clients. These benefits cannot be expected from any other in-home care method.
Park Ridge Home Care
For compassionate home care services in Park Ridge, IL and the surrounding areas, contact Assisting Hands at (847) 915-6186.
At Assisting Hands, we offer a number of unique home care services you can utilize based on your needs. They include the following and more:
Personal in-home assistance with daily tasks (using the restroom, getting dressed, bathing, etc.)
Meal preparation
Transportation services (driving the client, as well as picking up groceries, medications, and other items)
Light housekeeping
Companionship and mental stimulation
24-hour home care and live-in care
Care management (medication reminders, following up on doctor's orders, etc.)
At the end of the day, it is our goal to provide you or your loved one with greater peace of mind, and a certain level of independence with home care. This includes seniors, those recovering from a surgery, and individuals with disabilities. We also help those who provide informal care by giving them a much-needed break with respite care services.
Contact Us for a Free Consultation
We can provide a wealth of services for you or your loved one on short notice, and schedule long-term arrangements, as well. We are happy to answer any questions you have and are proud to work with the residents of Park Ridge, IL.
To learn more about our home health care services in Park Ridge, IL or the surrounding areas, contact Assisting Hands at (847) 915-6186. 
---
Related Home Care Services:
In-Home Care Park Ridge, IL
In-Home Care Hoffman Estates, IL
In-Home Care Palatine, IL
In-Home Care Chicago, IL
In-Home Care Des Plaines, IL
In-Home Care Elk Grove Village, IL
In-Home Care Harwood Heights, IL
In-Home Care Niles, IL
In-Home Care Norridge, IL
In-Home Care Rolling Meadows, IL
In-Home Care Schaumburg, IL
Park Ridge, IL In-Home Care