If you have a loved one in your family who needs  24-hour home care, it's natural to want to provide them with as much help as possible.  However, it is difficult for family members to care for their loved ones 24 hours a day, especially if they have jobs and children of their own.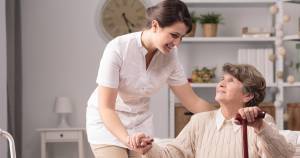 Fortunately, there are options for families who need 24-hour home care for elderly family members or loved ones with disabilities.  At Assisting Hands, we provide 24-hour home care services in Park Ridge, IL and Chicago suburbs to help senior citizens and adults with disabilities who need round-the-clock care.
24-Hour Home Care in Park Ridge, IL
Our 24-hour home care services are ideal for senior citizens with limited mobility, those who suffer from dementia or Alzheimer's, people recovering from surgery or illness, and seniors who need hospice care.
When you contact Assisting Hands for 24-hour home care, you'll know we will always have one of our highly trained caregivers present and awake to help with basic care and emergency situations that arise.  Our caregivers will keep your loved ones comfortable and provide emotional support, as well as quality, attentive care.
Our 24-hour home care services consist of the following:
Attentive 24-Hour Care: Our team of caregivers can provide consistent home care and companionship for your loved ones to help their physical and emotional well-being. We are committed to keeping your loved ones comfortable.  Three caregivers are sent to the home with our 24-hour attentive care services and work in shifts to guarantee someone is always awake and ready to provide emergency care.
Overnight Care: If you have a family caregiver who cares for your loved ones during the day but needs extra help at night, we can provide assistance with overnight care services. One of our caregivers will come to the home each night and stay awake so the family caregiver can sleep.
Live-In Care: If you would like a caregiver at the home of your loved one 24 hours a day, but they do not need 24-hour home care, we can help with our live-in care services. Our caregiver will stay in the home for several days and sleep at night, but they are there 24 hours a day in case of an emergency.
Having an elderly or disabled family member who needs 24-hour care is quite stressful and it is nearly impossible for families to provide  round-the-clock care without additional help. Assisting Hands can provide peace of mind to your family with our attentive 24-hour home care services.
Contact Us
You can learn more about our 24-hour care options by talking to one of our professionals during a free, in-home consultation. Servicing Park Ridge, IL and its surrounding Chicago suburbs – call (847) 796-6685.
---
Related 24 Hour Care Services:
Overnight Care Park Ridge, IL
Live-In Caregivers Schaumburg, IL
Live-In Care Park Ridge, IL
How to Make Overnight Caregiving Easier
24-Hour Home Care and Live-In Care Services Elk Grove Village, IL
24-Hour Home Care and Live-In Care Services Rolling Meadows, IL
24-Hour Home Care and Live-In Care Services Des Plaines, IL
24-Hour Home Care and Live-In Care Services Norridge, IL
24-Hour Home Care and Live-In Care Services Niles, IL
What are the Most Affordable States for Seniors to Retire
Retirement is a time to enjoy life's slower pace, participate in leisure activities, and enjoy the company of friends, family, and the community. Finding a place that meets these criteria can send seniors on a hunt for the most affordable locations. Here are states to which seniors can retire comfortably. Aging people take into account
READ MORE