In Home Senior Care Services
Please note that our light housekeeping services are ONLY included as part of our home care services. This is not a standalone service.
Keeping your home clean is not only important for making your home look good, but also for contributing to a healthy and comfortable living environment.  People are often happier and healthier when their living space is clean.  However, for senior citizens and adults with disabilities, simple housekeeping can be quite difficult.  If you have elderly family members that have stopped keeping up with the cleaning, their homes may become dirty or unsanitary.  Bathrooms and kitchens need to be cleaned routinely to remove germs and dirt, the garbage must be emptied, and expired food must be thrown away and replaced.  When senior citizens allow their homes to become dirty and unsanitary, it can affect their health and safety.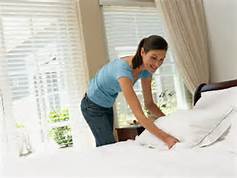 Assisting Hands provides light housekeeping services as part of our overall in-home care to clean and organize the homes of senior citizens and adults with disabilities.  Our caregivers will cover a range of light housekeeping duties and help sort through clutter to keep the home neat and organized.  We can personalize our house cleaning services to make sure that we cover all the cleaning needs of the home and that no chore is ignored.
You can expect our home cleaning services to cover the following:
General Cleaning: We will take care of general cleaning duties such as dusting, vacuuming, sweeping, mopping, and emptying garbage cans.
Organization: Our caregivers will help your loved ones keep their mail and bills organized and we will also help reduce clutter to keep the home neat and orderly.
Kitchen Cleaning: It is very important to regularly clean kitchens and keep them organized. We will help wash dishes, clean countertops, sweep and mop the floors, clean appliances, and put away dishes to keep the kitchen clean.
Bathroom Cleaning: Bathrooms also need to be cleaned quite often to prevent buildups of germs or mildew. We will clean and sanitize the bathroom, organize the medicine cabinet, and ensure that the room is safe for your family member to use.
Laundry: We will take care of laundry including folding and putting away clothes and linens, as well as ironing.
Changing Bedsheets: We will regularly change and clean the bedsheets.
Regular house cleaning will help provide a clean and healthy environment for your loved ones while eliminating unnecessary clutter that could be a trip hazard.  You can trust our caregivers to keep the home clean, sanitary, and organized as part of our in-home care services.  Talk to one of our caregivers to create a housekeeping plan for your loved ones.