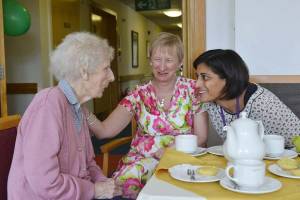 When a parent enters their golden years, health issues become more complex or more frequent. Often, it's hard to remember information, or keep track of what medications should be taken and when. There's very little time during a doctor's appointment to provide symptoms, ask questions, and receive a diagnosis, let alone comprehend the diagnosis or ask any new questions.
Your loved one may not think to take notes, and questions may come up later after the office has closed for the day. You might not be able to take time off work to accompany them to all the appointments or make arrangements to have someone else go along.
Having someone accompany a patient to a doctor's visit is beneficial to both the patient and the doctor. Patients feel supported because they have someone to keep them company, write down the technical information about medication dosages and side effects, and comfort them in case of a difficult diagnosis. Doctors feel more confident that patients will follow recommended dosages and treatment plans when someone else is there taking notes.
Non-Medical Home Health Care Care Services
The caring professionals at Assisting Hands help your loved ones get the most from doctors' appointments. Our comprehensive Senior Care Management services ensure that there are clear lines of communication between patients and caregivers. Our caregivers will do the following:
Attend appointments and take detailed notes on medications, therapies, and treatments.
Encourage patients to ask questions and voice the concerns mentioned earlier.
Ask important follow-up questions that may not occur to the patient.
Explain medical terms to the patient, and patient concerns to the doctor.
Assist in scheduling follow-up appointments, lab work, and any testing.
Provide gentle reminders to take medication, do therapy, and follow other medical directions.
One of the most common reasons for moving into supervised living homes is a failure to maintain good health. Our Senior Care Management service helps people live independently for as long as possible.
Health conditions change over time, so we continuously re-evaluate our patients' conditions and consult with their families if any changes are noted to make adjustments in their care; this ensures the highest quality of life for them. Our highly skilled, compassionate caregivers will ensure your loved ones aren't alone at appointments and understand those complex terms. We'll make sure you're informed at all times about appointments and health changes, so you can use your personal time for other things.
Get a Free Consultation
To request a free consultation regarding our caregiving services, contact Assisting Hands at (847) 796-6685.