The effects of aging can make everyday activities that many people take for granted either difficult or impossible for senior citizens.  Seniors with limited mobility or arthritis may have difficulty with basic housekeeping tasks, getting dressed, or bathing, especially if they need a walker, cane, or wheelchair to move around.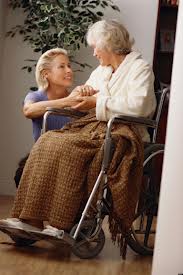 If they have poor eyesight, they may also lose their ability to drive which means that they will need help getting to doctor's appointments and running certain errands like grocery shopping.
Live-In Home Care
If you have elderly family members that have chosen to age in place in their own homes, it can be nerve racking knowing that there are times when no one is around to help them.  The live-in caregivers of Assisting Hands in Park Ridge, IL and Chicago suburbs can help ease your mind with our live-in home care services.  Our live-in care services include everything from personal care to housekeeping, so you can rest assured that your family members always have someone there to help.
We are committed to providing effective in-home care that covers the specific needs of your loved ones so they can continue to safely age in their own homes.  We also consistently reevaluate the care needs of our clients so we can adjust our care plans according to their changing needs.
Live-In Caregivers Park Ridge, IL
Live-in home care is an ideal option for senior citizens who want to age in place, but need help daily with personal activities, housekeeping, or transportation.  Our live-in caregivers will live in the house with our clients and sleep during the overnight shift, but they are there 24 hours a day to help whenever our clients need it.  The constant supervision from our caregivers will help prevent falls and other dangerous situations, and we can provide consistent companionship and emotional support.
You can expect the following from our live-in home senior care services:
Personal Care: Our live-in caregivers can help with personal care and hygiene including bathing, getting dressed, restroom use, and help getting out of bed for those with limited mobility.
Errands and Transportation: Losing the ability to drive causes senior citizens to lose some of their independence. Our live-in caregivers will run important errands to pick up groceries and medication as well as provide transportation to help our clients get to important appointments and events.
Meal Preparation: Preparing meals on a daily basis can become difficult for senior citizens for a number of reasons. We make sure that your loved ones get freshly prepared meals each day with our meal prep services.
Light Housekeeping: We can help take care of housekeeping tasks that have become too difficult for our clients.
Alzheimer's and Dementia Care: Senior citizens affected by Alzheimer's or dementia care cannot safely live alone. We can provide effective care for seniors with dementia or Alzheimer's that include memory improving activities.
Companionship: Our live-in caregivers provide much more than physical care, they also provide excellent companionship. We will regularly engage your loved ones in conversation and other activities to help build personal relationships and provide emotional support.
Contact Us
Whether your loved ones need daily help with certain housekeeping tasks or personal activities, or 24-hour supervision due to illness or dementia, Assisting Hands can help with our live-in home care services.
Contact Assisting Hands at (847) 796-6685 to learn more about how our live-in home health care services can help your loved ones in Park Ridge, IL and the Chicago suburbs.
---
Related Live-In Care Services:
Live-in Care Services Elk Grove Village, IL
24-Hour Care Rolling Meadows, IL
Overnight Care Services Park Ridge, IL
Live-In Caregivers Schaumburg, IL
24-Hour Care Park Ridge, IL
24-Hour Home Care and Live-In Care Niles, IL
24-Hour Home Care and Live-In Care Norridge, IL
24-Hour Home Care and Live-In Care Des Plaines, IL
What Are the Types of Senior Housing Options
Planning for future housing should be on a senior's to-do list early in life. Delaying decisions about where to live and with whom can leave older adults with fewer choices. When evaluating the best senior housing options, consider these six possibilities. 1. Retirement Communities The most well-advertised and familiar place for older Americans is the
READ MORE