Meal Planning & Preparation – In Home Senior Care Services
Please note that our meal preparation services are ONLY included as part of our home care services. This is not a standalone service.
Eating regular nutritious meals is an important part of our daily routines.  However, as people age, they may become less interested in food or unable to prepare meals themselves for various reasons.  Senior citizens with limited mobility cannot handle grocery shopping and daily meal prep which may cause them to skip meals.  Certain medications, as well as a loss of taste or smell, can cause seniors to become less interested in eating while conditions like dementia or Alzheimer's disease can cause those affected to forget to eat.  Seniors who live alone may lose their motivation to prepare meals just for themselves.  If senior citizens do remember to prepare and eat their daily meals, they may not be getting the nutrients they need as they age.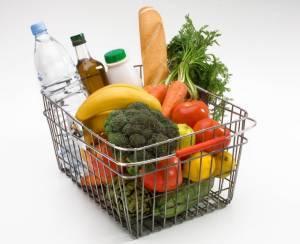 It is very important for senior citizens to get enough nutrition through their meals to meet their changing nutritional needs.  At Assisting Hands, we provide meal prep services to ensure that our clients get regular meals that provide them with adequate nutrition.  Our caregivers will help with all food prep activities from grocery shopping to feeding assistance and cleanup.  We prepare meals with nutritional content in mind so you can trust that your loved ones are not only eating regularly, but getting good, healthy meals that will provide them with nutritional benefits.
Our healthy meal prep services include the following:
Help Planning Meals: Our caregivers will help plan healthy meals and put together a grocery list that includes the right food to prepare these meals. We will also assist your loved ones with the grocery shopping.
Feeding Assistance: Some senior citizens may need assistance eating due to mental or physical limitations. Our caregivers provide feeding assistance to help improve and maintain food consumption.
Preparing Meals: We will not only help our clients prepare their meals, but also motivate them to take part in the preparation and enjoy their meals. We will wash the dishes and clean up the kitchen afterwards as well.
Food Prep for Every Meal: It is important for your elderly or disabled family members to get three nutritional meals per day to prevent malnutrition and other issues. Our caregivers will prepare healthy, nutritious meals for breakfast, lunch, and dinner.
Without regular healthy meals, senior citizens and disabled adults may become malnourished and underweight which can lead to health issues.  Our meal preparation services will ensure that your loved ones get three meals a day that provide them with the nutritional value they need to stay nourished at a healthy weight.  Assisting Hands generally provides meal preparation as part of our in-home care services.