Call Now: (847) 915-6186
While nursing homes and retirement homes are great options for some individuals, many nowadays are deciding to live in the comfort of their own homes for as long as possible. It gives them greater independence, allows them to remain in a familiar environment, and eliminates the hassle of moving. However, varying levels of assistance with everyday activities are often needed in order to do this. At Assisting Hands Home Care, we provide non-medical home health care services to seniors in Harwood Heights, IL, to help them achieve this aspiration.
Working with a Caregiving Agency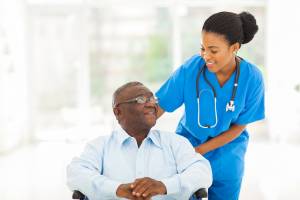 When you work with a caregiving agency, such as us here at Assisting Hands Home Care, you have a greater level of flexibility in finding customized services based on your particular needs. This is because we have the resources to ensure that all our caregivers are highly trained in a number of in-home care services (in our case, they are trained in CPR and first aid, as well). Additionally, we take care of any emergency rescheduling of services that comes about. When you provide informal caregiving services yourself, or hire an individual caregiver, you do not have this level of assurance.
Non-Medical Home Health Care
As we mentioned above, we allow you to fully customize your experience based on your unique needs. Some seniors require extensive care due to physical or mental limitations, while others simply need assistance with specific tasks (such as running errands or bathing). No matter your situation, we are more than happy to help. It is important to note that we help any individuals that need assistance, not just seniors. This can include pregnant women, individuals recovering from a surgery, those with disabilities, etc.
We begin our services by meeting with the affected individual and their family members. You know what is needed better than we do, which is why it is important to develop an appropriate care plan together about specific requirements. Once this is done, we can proceed with providing the following services and more:
Meal preparation
Care management (e.g. medication reminders, following doctor's orders, etc.)
Assistance with bathing and personal hygiene
Light housekeeping
General transportation and assistance with errands
Companionship
This last point, companionship, is particularly beneficial for seniors who cannot get out of the home often. Many suffer from depression, loneliness, and similar psychological problems. Our caregivers take the time to hold conversations, get to know our clients, and participate in various hobbies and activities.
While we cannot perform medical services, such as injecting medications or changing bandages, we can help you or your loved one with essentially any other day-to-day tasks. To schedule an appointment and learn more about our non-medical home health care services, simply contact our representatives at (847) 915-6186. At Assisting Hands Home Care, we are proud to work with those in need in Harwood Heights, IL 60706 area.
Assisting Hands Home Health Care – Watch the Video