Call Now: (847) 796-6685
At Assisting Hands, we provide a number of in-home care services for seniors in Harwood Heights, IL. We help aging individuals with mental or physical limitations live their lives independently in the comfort of their own homes, but with a safety net.
It is an unfortunate reality that our bodies break down at one point or another, which is why our caregivers are happy to assist those aging in place with certain tasks such as getting out of bed, preparing meals, bathing, and similar tasks.
Senior Care in Harwood Heights, IL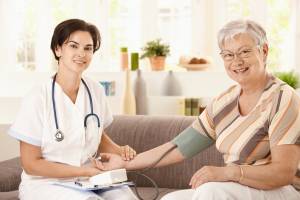 Give us a call at (847) 796-6685 for a free consultation on our senior home care services in Harwood Heights, IL.
Our Assisting Hands caregivers are among the best in the industry at what they do. This begins with our stringent screening process designed to filter out anybody who will not put the best interests of our clients first.
We then provide extensive training in a number of senior care, as well as CPR and first aid. Only after passing these trainings do we allow our caregivers begin services. This approach ensures you or your loved one receives the best care possible, and from a caregiver who truly wants to help.
Senior Home Care in Harwood Heights, IL
Our senior in-home care services are fully customizable depending on the needs of yourself or your loved one. We do not force you to partake in unnecessary services. To make sure that this is achieved, we begin our care with a meeting to set requirements and expectations. We can then provide the following care services and more:
Transfer Assistance: We help seniors travel around their homes safely.
Bathing Assistance: We ensure that seniors safely bathe and shower, as well as take care of their personal hygiene.
Help with Morning and Evening Routines: We help seniors get out of bed in the morning, take care of typical restroom needs, and then do the same as we get them ready for bed in the evening.
Restroom Assistance: We help seniors safely use the restroom throughout the day (we offer both minimal and full assistance).
Help with Personal Appearance: We assist seniors with changing clothes, as well as cleaning themselves up.
Incontinence Care: In the event of an accident, we provide cleaning services, as well as a fresh set of clothes.
Light Housekeeping: We vacuum, dust, mop, sweep, do laundry, etc.
Meal Preparation: We cook and serve food and clean up afterward (we can also provide eating assistance.
Help with Errands: We pick up groceries, deliver mail, pick up medications, etc.
Companionship: We take the time to get to know our clients on a personal level and participate in various activities to keep them engaged.
Contact Us
We are happy to answer any of your questions or concerns and are proud to work with those in need in Harwood Heights, IL area.
If you or a loved one is in need of senior in-home care services, we encourage you to contact our Assisting Hands representatives at (847) 796-6685. 
---
Related Senior Care Services:
Senior Home Care Services Chicago, IL
Senior Home Care Services Elk Grove Village, IL
Senior Home Care Services Hoffman Estates, IL
Senior Home Care Services Niles, IL
Senior Home Care Services Norridge, IL
Senior Home Care Services Palatine, IL
Senior Home Care Services Park Ridge, IL
Senior Home Care Services Rolling Meadows, IL
Senior Home Care Services Des Plaines, IL
Park Ridge, IL Senior Home Care Services