Call Now: (847) 796-6685
As our average lifespans increase, the need for caregiving services rises. This is simply because our minds and bodies still gradually break down over time, even with the significant advances we have seen in medications and treatments.
To help seniors in Niles, IL, get through their everyday activities, Assisting Hands offers senior home care at Assisting Hands Home Care.
Elderly Care in Niles, IL
For senior home care services in the Niles, IL area, contact Assisting Hands at (847) 796-6685.
The reason in-home care is the preferred route for many seniors (as opposed to moving to a retirement home or nursing home) is because it gives them the ability to maintain some of their indepe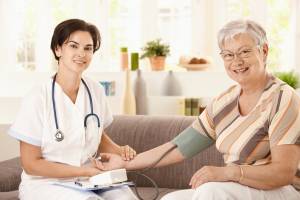 ndence. A major difficulty with aging is losing the ability to care for one's self. Through in-home care, seniors are able to age in the comfort of their own homes. At Assisting Hands, we understand this mentality, giving you the flexibility to choose which services are actually needed.
Another benefit to in-home care is not needing to worry about selling property or moving. Going through countless belongings, and moving to a new location, can be difficult for able-bodied adults. When it comes to seniors with physical or mental limitations, the process is exponentially more difficult. Through in-home care, you or your loved one can receive required assistance, but avoid the trouble and shock of moving.
Customizable Senior Care
We want to help you in areas that are truly needed. While we don't provide specialized medical services, we can help with everything else, thanks to our caregivers' training.
They must also display a genuine care for the needs of our clients, as this is instrumental in providing high quality care.
Each of the following can be included within our senior home care plans:
Assistance with personal hygiene and grooming (this includes bathing and using the restroom)
Meal preparation (we can help with meal consumption, as well)
Assistance with moving around the home (such as getting up from the bed and chairs, and walking lengthy distances)
Help with changing clothes
Incontinence care
Basic housekeeping services
General transportation services (e.g. driving to and from doctor's appointments, picking up groceries and medications, etc.)
Companionship (this is important in combating loneliness, depression, memory loss, and many other psychological problems to which seniors are susceptible)
Contact Us
Contact Assisting Hands at (847) 796-6685 for senior home care services in the Niles, IL area. We are happy to provide free, in-home consultations.
---
Related Home Care Services:
Home Care Services Chicago, IL
Home Care Services Elk Grove Village, IL
Home Care Services Harwood Heights, IL
Home Care Services Norridge, IL
Home Care Services Palatine, IL
Home Care Services Park Ridge, IL
Home Care Services Rolling Meadows, IL
Home Care Services Schaumburg, IL
Home Care Services Hoffman Estates, IL