Call Now: (847) 796-6685
Baby boomers almost always choose to age in place, increasing the need for in-home care services. Considering the numerous benefits, it's no surprise more elderly individuals prefer this option instead of an assisted living facility or nursing home. Staying at home allows seniors to remain in an environment with which they are comfortable, familiar and keep their independence.
Assisting Hands provides senior home care services in Elk Grove Village, IL, and the neighboring communities. A member of our staff will visit your loved one at their home to learn about their care needs. This allows us to develop a proper care plan that covers your loved one's needs and ensures they receive quality care, assistance, and companionship.
Senior Care in Elk Grove Village, IL
Contact Assisting Hands at (847) 796-6685 for senior home care services in the Elk Grove Village, IL area.
With senior home care, Assisting Hands helps seniors in Elk Grove Village, IL. We will work with you and your elderly loved one to create a custom, flexible care plan that can be changed at any time.
Our caregivers have each passed a background check and are all bonded, insured, and licensed; they will also be respectful and compassionate with your loved ones. In the event of an emergency, they are first aid and CPR trained and will alert EMTs immediately.
Senior Home Care Tasks
Some seniors struggle with mobility or have cognitive limitations, making self-care tasks (activities of daily living) difficult. Our caregivers can assist with the following ADLs:
Bathing and Showering: If seniors struggle to bathe or shower, our caregivers can help with partial or full assistance.
Restroom Use: If seniors need help using the restroom, our caregivers can help with partial or full assistance.
Dressing: Every morning and night, our caregivers will help your loved ones get dressed.
Personal Appearance: We will help seniors comb their hair, brush their teeth, and with other personal hygiene tasks.
Incontinence Care: If seniors struggle with incontinence, we will help them clean up and change into clean clothes.
Mobility Assistance: Whether it's getting in or out of bed, up from a recliner, or into a wheelchair, our caregivers will help with mobility problems.
Our caregivers will also provide assistance with the following: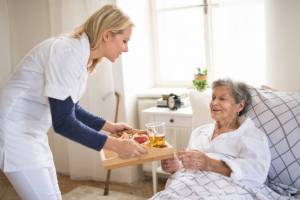 Meal Preparation: Seniors can become malnourished if they don't eat well or on a regular basis. So our caregivers will prepare nutritious meals for your loved ones, accounting for any dietary restrictions.
Transportation: Our caregivers can provide transportation services to appointments, events, and run errands.
Light Housekeeping: It can be difficult for seniors to keep their homes clean, but we can help with light housekeeping. This includes laundry, dusting, taking out trash, vacuuming, and more.
Companionship: Our caregivers provide more than just help; we are personal companions who develop personal connection with seniors, engaging in fun activities and conversation.
Contact Us
Call Assisting Hands at (847) 796-6685 if you have a loved one in need of senior care services in Elk Grove Village, IL. We will schedule a free consultation at your elderly loved one's home for an assessment and to determine their care needs.
---
Related Services:
Senior Home Care Services Palatine, IL
Senior Home Care Services Hoffman Estates, IL
Senior Home Care Services Park Ridge, IL
Senior Home Care Services Rolling Meadows, IL
Park Ridge, IL Senior Home Care Services
Senior Home Care Services Niles, IL
Senior Home Care Services Norridge, IL
Senior Home Care Services Harwood Heights, IL
Senior Personal Assistance Park Ridge, IL
Senior Home Care Services Chicago, IL