Call Now: (847) 796-6685
With elderly care services, Assisting Hands helps elderly individuals in Elk Grove Village, IL, and the nearby areas of Cook County safely live at home.
Seniors' care needs will increase as they get older, and it can become difficult for family caregivers to cover all their needs while also taking care of themselves. But with elderly care services, seniors can get the quality care they need.
Elderly Home Care in Elk Grove Village, IL
For elderly home care services in the Elk Grove Village, IL area, contact Assisting Hands at (847) 796-6685.
For some families who have an elderly relative needing home care, the solution is to have a family caregiver. But this isn't always possible as the role of a family caregiver is a demanding responsibility.
By customizing our services, we can meet your elderly relatives' care needs, ensuring they age safely and comfortably at home. These involve a staff member visiting the client's home for a care assessment and a safety evaluation of the home. A customized care plan is then created to accommodate your elderly loved one's care needs. Finally, a licensed caregiver will be scheduled to start as soon as you are ready.
Within our elderly care services, you may find the following:
24-hour care
Live-in care
Meal preparation
Light housekeeping
Personal assistance
Errands and transportation
We can also include the following services in your elderly relative's care plan to meet their needs: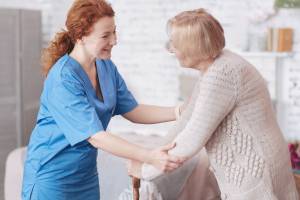 Companionship: Seniors can become lonely, especially if they don't live near their family or friends, but our caregivers provide social companionship, engaging in conversation and doing fun activities to create a personal relationship with your elderly loved one.
Fall Prevention: Seniors often suffer injuries as a result of falls, but our caregivers provide guidance throughout the home and remove tripping hazards to prevent falls from occurring.
Light Housekeeping: Seniors need to live in a clean, healthy living space, but it can be tough to maintain the cleanliness of their home. Our caregivers provide assistance by vacuuming, dusting, doing laundry, and performing other light housekeeping tasks.
Meal Preparation: Seniors need proper nutrients but may have difficulties cooking their own meals. Our caregivers prepare daily meals for your elderly relatives, accounting for any dietary restrictions.
Personal Care: Seniors may have a difficult time with personal care tasks on their own, but our caregivers provide assistance, including help getting dressed, using the restroom, bathing, showering, and more.
Transportation and Errands: Seniors often have to give up their driving privileges, but our caregivers can provide rides to medical appointments, family get-togethers, and other places so they can still make it to important events. Our caregivers can also provide assistance with grocery shopping, prescription pickups, and other errands.
Alzheimer's and Dementia Care: Seniors with Alzheimer's disease or another form of dementia find it especially beneficial to receive care within the comfort of their own homes. Our trained caregivers can provide memory care services.
Hospice Care: Having an elderly loved one with limited life expectancy or a terminal illness can be stressful. They need care, and family members need to handle their end-of-life affairs. Our caregivers can help them live their final days comfortably.
Live-In/24-Hour Care: Sometimes elderly individuals cannot be alone during the night, but our caregivers can accommodate these needs. Live-in caregivers work a shift lasting 3-4 days, live in the client's home, provide assistance throughout the day, and sleep at night. 24-hour caregivers work a 12-hour shift and rotate so seniors can receive care at all times.
Overnight Care: Some seniors need care throughout the night, so they cannot be on their own. Our caregivers provide assistance, arriving in the evening and staying throughout the night.
Post-Operative Care: Seniors have an especially tough time making the transition home after a hospital stay, but our caregivers provide them with assistance to avoid setbacks and take their medication.
Respite Care: Some seniors have family caregivers, but they may need a break, as they must tend to their own lives. Our caregivers can fill in while the family caregiver can enjoy scheduled breaks.
Contact Us
Call (847) 796-6685 to learn more about Assisting Hands' elderly care services in Elk Grove Village, IL, and the nearby areas of Cook County.
---
Related Services:
Elderly Home Care Services Park Ridge, IL
Park Ridge, IL Senior Home Care Services
Elderly Home Care Services Palatine, IL
Elderly Home Care Services Hoffman Estates, IL
Senior Home Care Services Harwood Heights, IL
Senior Home Care Services Niles, IL
Senior Home Care Services Norridge, IL
Senior Home Care Services Des Plaines, IL
Senior Home Care Rolling Meadows, IL
Senior Home Care Services Chicago, IL