Call Now: (847) 915-6186
Even though people are living longer lives than ever before, our bodies and minds still slow down as we age. This can make it difficult for senior citizens to continue living in their own homes without some sort of help. As a result, increasing numbers of seniors are turning to elderly care services to receive assistance throughout the day. At Assisting Hands Home Care, we provide these services to seniors in Norridge, IL to help them continue living comfortably in their homes.
Informal Caregiving Services v. Professional Caregiving Services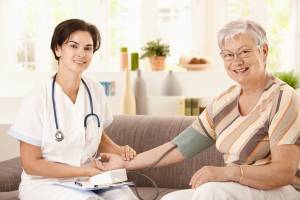 Many children of aging adults take on the role of informal caregiver. In fact, over 65 million Americans currently care for a loved one in need. The problem with this approach is that about 25% of them report that they are in poor health. This is largely attributed to stress, lack of sleep, and the additional work that is piled on to all of their other duties (many of these individuals are parents themselves and have careers to worry about).
When you hire a professional caregiving agency, you have the flexibility to live your life, but give your loved one the high-quality care that they deserve. For example, at Assisting Hands Home Care, we have a wealth of highly trained caregivers and we provide customizable care plans based on your loved one's requirements. This means that your loved one will receive topnotch, attentive care whenever they need it. All of our caregivers are licensed and bonded to provide effective and compassionate senior care services.
Our Specific Senior Care Offerings
As we stated above, we give you the flexibility to pick and choose which caregiving services you truly need. We can work as many or as few hours as you require, and we can address all non-medical needs. This includes assistance with:
Meal preparation
Errands and general transportation
Bathing and overall personal hygiene
Light housekeeping
Overall care management
Companionship
While the above illustrates the types of services that we provide, we can address a number of situations that seniors, and others, may go through. We do this through the following and more:
Alzheimer's and dementia care
Fall prevention services
Rehabilitation services
Live-in care or 24-hour care
Post-hospitalization care
Stroke recovery services
Cancer recovery services
Medical alert systems
Non-medical health care
After surgery home care
We specialize in services that cater to seniors with a variety of physical or mental limitations. We understand how difficult these scenarios can be, which is why we always work with the utmost compassion and respect for your situation. We value our clients and do everything possible to give them greater peace of mind.
To learn how we can adapt our elderly care services to meet your needs, simply contact our Assisting Hands Home Care representatives at (847) 915-6186. We are happy to answer any questions or concerns that you have and are proud to service seniors in need in Norridge, IL area.