Call Now: (847) 915-6186
Memory loss is severely troubling for those who suffer from it, as well as for their family members. This is because of the variety of problems that can arise, and the need for additional care for affected individuals to get through their day. At Assisting Hands Home Care, we offer Alzheimer's and dementia care services to those in need in Norridge, IL. We not only help those suffering from memory loss get through their days, but also partake in mentally stimulating activities in order to slow the degenerative qualities of these troubling diseases.
The Prevalence of Dementia
Memory loss is an extraordinarily common occurrence in seniors 65 years of age or older. In fact, 10% of individuals that fall into this age bracket suffer from Alzheimer's disease, which is simply one form of dementia. This shows just how widespread memory loss is for seniors in the United States.
Alzheimer's Signs and Symptoms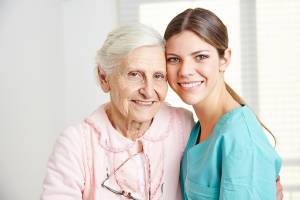 When identifying cases of memory loss, there are a number of signs and symptoms to go by. In early stages, short-term memory tends to fade, and affected individuals may have difficulty remembering what they were about to say or do. As the disease gets worse, forgetfulness becomes more common, and individuals may even begin to wander around the home aimlessly. This generally leads to agitation, as the individual cannot remember what they were trying to do. Awareness of memory loss can also cause those with dementia to become agitated. In severe cases, incontinence is relatively common, and it can be extremely difficult for individuals to hold everyday conversations.
Memory Care Services
At Assisting Hands Home Care, we help those suffering from memory loss get through their day by providing a variety of non-medical care services. This includes things such as:
Meal preparation
Light housekeeping
Assistance with grooming and personal hygiene
General transportation
In addition to these in-home care services, we also participate in a number of hobbies and pastimes to keep clients mentally engaged. This helps to preserve memory functionality. We take the time to get to know our clients on a personal level which allows us to hold conversations that stimulate their long-term memories (these memories generally stick around much longer than short-term memories). This translates to happy clients, as it gives them a companion in their caregiver. Most importantly, we provide these services in the comfort of the affected individual's home. This makes the transition to receiving care much easier than if they were to relocate to an unfamiliar environment to receive care.
To learn how your loved one can benefit from our Alzheimer's and dementia care services, simply contact our representatives at (847) 915-6186. At Assisting Hands Home Care, we are proud to help individuals in need in Norridge, IL.
---
Assisting Hands Alzheimer's and Dementia Care – Watch the Video
---