Call Now: (847) 796-6685
At Assisting Hands, we provide live-in care and 24-hour home care for seniors and adults with disabilites in Norridge, IL. Our clients can benefit from around the clock care to address their needs anytime during the day or night.
This gives them the ability to live in the comfort of their  home and experience a  level of independence that cannot exist in nursing homes or retirement homes. We are qualified to help a variety of individuals with physical and mental limitations.
Live-In Caregivers in Norridge, IL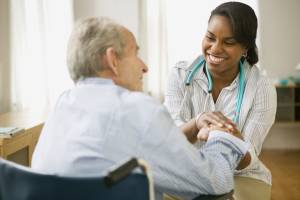 Our live-in care services are designed to address non-medical needs. We provide two caregivers who rotate every 3 to 4 days. They just need at least 5 hours of uninterrupted sleep per night in a room of their own. This allows them to provide exceptional in-home care as needed on a day-to-day basis.
To prepare for these services, you will need to make arrangements for our caregivers to sleep in the home. They will need space to keep some personal belongings, and when they rotate shifts, the one departing will prepare the room for the next.
They are trained and qualified to help you with the following and more:
Meal preparation
Bathing and taking care of personal hygiene
Changing clothes in the morning and at night
Getting around the home
Running errands
Cleaning the home
Addressing emergencies
Care management (this includes assistance with following doctor's orders, medication reminders, and similar necessities)
24 Hour Home Care Norridge, IL
With 24-hour care services, we provide attentive care around the clock. This is important for individuals who need assistance at a moment's notice. We will assign two caregivers to one client who will rotate in 12-hour shifts, ensuring that a caregiver is always in the home awake and alert. You do not need to provide them with an area to sleep. The same care services are provided as those listed above.
Our Caregivers
Regardless of the service chosen, you will be receiving care from highly trained and competent caregivers. Our caregivers are bonded and insured to provide quality in-home care. We also build relationships with our clients because we understand many are unable to get out of the home as often as they like. So we participate in hobbies, pastimes, and conversations to keep them social and engaged.
Contact Us
To learn more about our live-in care and 24-hour care services in the Norridge, IL area, give our Assisting Hands representatives a call at (847) 796-6685.
---
Related Services:
Live-In Caregivers Elk Grove Village, IL
Live-In Caregivers Niles, IL
Live-In Caregivers Des Plaines, IL
Live-In Caregivers Park Ridge, IL
Live-In Caregivers Rolling Meadows, IL
Live-In Caregivers Schaumburg, IL
Park Ridge, IL Live-In Caregivers
Park Ridge, IL 24-Hour Care