Call Now: (847) 796-6685
Serving Rolling Meadows, IL, and the neighboring areas of Cook County, Assisting Hands provides memory care to assist individuals affected by Alzheimer's disease and other types of dementia.
Our caregivers are trained to care for Alzheimer's and dementia patients and handle agitation and mood swings. They also use positive reinforcement techniques and engage them in memory care exercises to slow memory loss.
For more information regarding our memory care services, call (847) 796-6685.
Alzheimer's Disease vs. Dementia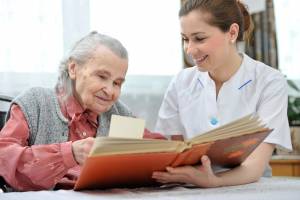 In the United States, nearly 5.5 million people 65 and older suffer from dementia. 70 percent suffers from Alzheimer's disease. Dementia and Alzheimer's disease, however, are not the same. Dementia is the general term that describes symptoms of memory loss and a decline in cognitive abilities. Meanwhile, Alzheimer's disease is a form of dementia and is one of the top causes of death in the U.S.
Alzheimer's disease and all other types of dementia are degenerative conditions. Memory loss and a decline in cognitive abilities are the two main symptoms. With time, these symptoms worsen. The affected individual begins by forgetting small things, such as where they left their jacket.
But this memory loss progresses, and the affected individual will eventually forget essential things, such as a person they have known for a long time. An Alzheimer's or dementia patient in the later stages of the disease will need constant care and assistance, as they'll lose their own ability to care for themselves. This care is best received at home, because the home is a familiar and comfortable environment.
Recognizing the Signs of Alzheimer's Disease and Dementia
Elderly individuals commonly experience some memory loss, so this isn't always an indicator of Alzheimer's disease or other form of dementia. Early stages of these conditions involve more than memory lapses. Families with elderly loved ones need to watch for signs. If the disease is diagnosed early, it's easier to develop a care plan to manage the symptoms as the disease progresses.
The following are symptoms of Alzheimer's disease and dementia:
Forgetfulness: Short term memory is usually the first to be affected in cases of Alzheimer's disease and other types of dementia. General forgetfulness isn't concerning, but repeated forgetfulness can be an early indicator of dementia. The memory loss begins with forgetting minor things, such as their belonging, but progresses into forgetting major things, such as their family and friends.
Wandering: The general confusion Alzheimer's disease and dementia causes can make the affected individual wander aimlessly. If the wandering involves looking for a person or thing that may not exist, there's a possibility they're suffering from the early stages of dementia.
Agitation: When an individual has Alzheimer's or dementia, they can sense their limitations, causing mood swings and agitation.
Incontinence: Because individuals with Alzheimer's or other form of dementia lose bodily control in the disease's late stages, incontinence is common.
Dementia Care in Rolling Meadows, IL
For memory care services in the Rolling Meadows, IL area, contact Assisting Hands at (847) 796-6685.
Families with dementia patients usually have a tough time taking care of themselves. But Assisting Hands can help with trained and experienced caregivers.
We can help those who wander and know how to handle agitation or mood swings using positive reinforcement. Our caregivers can also engage seniors in mental stimulation exercises to slow memory loss.
Our Alzheimer's and dementia care services include the following:
Personal Care: From bathing and showering to getting dressed and incontinence care, our caregivers assist those affected by Alzheimer's or dementia with personal care activities.
Meal Preparation: Alzheimer's and dementia patients cannot safely prepare meals for themselves, but our caregivers take on the healthy meal preparation responsibilities and account for dietary restrictions.
Medication Reminders: Our caregivers ensure clients take their medication on time.
Wandering: Alzheimer's and dementia patients dangerously wander as they're not always aware of their environment. Our caregivers help your loved ones stay in their home, ensuring their safety and removing tripping hazards to prevent falls.
Companionship: Social companionship is beneficial to dementia patients. But our caregivers can be companions for your loved ones. To create a personal connection, we make conversation and engage them in their favorite activities and hobbies. Not only does this improve their mood, but also stimulate their minds, slowing the progression of memory loss.
Memory Care in Rolling Meadows, IL
To start, one of our staff members visits the patient's home to assess their care needs. We then create a customized care plan to safely cover the needs. Open communication is maintained to keep you updated on your loved one's condition. If needed, we can adjust the care plan.
Seek help from Assisting Hands' memory care services in Rolling Meadows, IL, and the neighboring areas of Cook County if you have elderly relatives affected by Alzheimer's or other type of dementia. Our trained, experienced caregivers will provide your loved ones with quality memory care services.
Free In-Home Assessment
For more information about our memory care services or to schedule a free in-home assessment, give us a call at (847) 796-6685.
---
Related Memory Care Services:
Alzheimer's Care Palatine, IL
Alzheimer's Care Park Ridge, IL
Alzheimer's Care Hoffman Estates, IL
Park Ridge Alzheimer's Care
Alzheimer's Care Des Plaines, IL
Alzheimer's Care Harwood Heights, IL
Alzheimer's Care Niles, IL
Alzheimer's Care Norridge, IL
Alzheimer's Care Elk Grove Village, IL
Alzheimer's Care Schaumburg, IL
Alzheimer's Care Chicago, IL