Call: (847) 796-6685
Senior citizens have spent most of their lives taking care of themselves and their families which is why it can be difficult for many to accept that they cannot handle the tasks that they once could.  Many seniors suffer from chronic illnesses, cognitive limitations, and limited mobility that makes it impossible for them to take care of certain activities of daily living including personal hygiene, cooking, and cleaning.
If your senior relatives want to remain living in their own homes, they will likely need some assistance to do this safely.  Assisting Hands provides senior home care services in Hoffman Estates, IL to help senior citizens age in their homes safely.
Senior Care Hoffman Estates, IL
For senior home care services in Hoffman Estates, IL or the surrounding areas, contact Assisting Hands at (847) 796-6685.
At Assisting Hands, we provide more than just excellent care for your loved ones.  Our caregivers will be good social companions and build personal relationships with them based on compassion and respect.
When you call us for senior care services, we will help you form a care plan that is tailored to the individual needs of your loved ones and assign a caregiver to begin providing care.  We put each of our caregivers through a background check and ensure that they are properly trained before assigning them to the home of your loved one.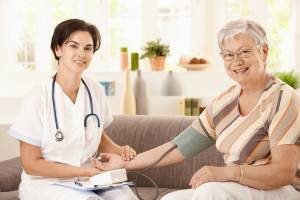 Our senior care services can include the following:
Help with Daily Routines: Senior citizens may need help with their morning and bedtime routines. Our caregivers can help your loved ones in and out of bed and assist them through personal hygiene activities such as bathing and dressing.
Transfer Assistance: We will help those with limited mobility get in and out of bed and get up from the couch, recliner, or wheelchair.
Bathing and Showering: Some senior citizens have difficulty bathing or showering themselves. We can assist your loved ones with bathing to ensure that it is done safely.
Restroom Use: If your loved ones need any assistance using the restroom, we can help with full or partial assistance.
Dressing: We can help your loved ones get dressed in the morning and dressed for bed at night.
Personal Appearance: Personal appearance matters to people even in their senior years. We can help your loved ones with their grooming to maintain their personal appearance.
Incontinence Care: We can provide assistance for those affected by incontinence including help changing and cleaning up.
Meal Preparation: It is important for senior citizens to get enough nutrition on a daily basis. We can provide meal preparation services to ensure that your loved ones get complete meals each day.
Grocery Shopping: Our caregivers can assist with the grocery shopping for your loved ones to pick up food, prescriptions, and other items needed.
Light Housekeeping: Our caregivers will help keep the home clean and sanitary with light housekeeping duties including washing dishes, vacuuming, mopping, laundry, and other light tasks.
Companionship: As mentioned above, our caregivers want to be a good social companion for your loved one as well as their caregiver. Our caregivers will get to know your loved ones through conversation and engage with them in some of their favorite activities.
Contact Us
If you have elderly relatives in Hoffman Estates, IL that need assistance to continue living in their own homes, contact Assisting Hands to learn more about our senior care services.  We will help form a complete care plan that accounts for your loved one's needs and choose a caregiver who we believe will be a good match.
You can reach us at (847) 796-6685 for more information or to schedule a free consultation.
---
Related Senior Care Services:
Elderly Care Services Park Ridge, IL
Home Care Hoffman Estates, IL
Senior Care Park Ridge, IL
Senior Care Palatine, IL
Senior Care Des Plaines, IL
Senior Care Chicago, IL
Senior Care Elk Grove Village, IL
Senior Care Harwood Heights, IL
Senior Care Niles, IL
Senior Care Norridge, IL
Senior Care Rolling Meadows, IL
---
Tips for Avoiding Caregiver Burnout
Caring for an elderly loved one, a chronically ill senior, or someone with a disability can be a drain on more than just energy. Caregiving can be a major source of stress and subsequent burnout, especially when provided by an inexperienced family member. Here's how to prevent caregiver burnout. One in five Americans serve as
READ MORE