Call: (847) 796-6685
Serving Hoffman Estates, IL, and the neighboring areas in Cook County, Assisting Hands helps seniors live safely at home with elderly care services.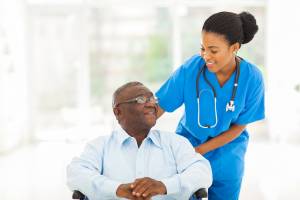 We personalize our elderly care services to meet your elderly loved one's unique care needs, allowing them to safely and comfortably age at home. Their care needs are first assessed, then assigned a licensed caregiver, selecting the best fit according to their personality.
If you have an elderly loved one needing help to safely live at home, you and other family members may take it upon yourselves. Seniors generally prefer to age at home, so family caregivers provide the in-home care, but it isn't always practical or possible for families to have a family caregiver.
What may start at just needing transportation and occasional household help can quickly turn into additional services needed, like personal care, as seniors age. Elderly individuals' care needs may reach the point where it's too much for family caregivers to handle. Assisting Hands elderly care services can help!
Elderly Home Care in Hoffman Estates, IL
For elderly home care services in the Hoffman Estates, IL area, contact Assisting Hands at (847) 796-6685.
The following may be included within our elderly care services:
24-hour home care
Errands and transportation
Light housekeeping
Live-in care
Meal preparation
Personal assistance
The following services can also be included within the care plan based on your elderly loved one's needs:
Personal Care: Our caregivers provide assistance with restroom use, bathing, getting dressed, and other personal hygiene tasks.
Meal Preparation: Our caregivers prepare healthy, nutritious meals on a daily basis.
Transportation and Errands: Our caregivers provide transportation for your elderly relatives to their doctor's appointments, family gatherings, and other events. Our caregivers can also run errands, including picking up prescriptions and shopping for groceries.
Fall Prevention: Our caregivers remove tripping hazards, guide seniors throughout their home, and other tasks to prevent falls.
Light Housekeeping: Our caregivers conduct light housekeeping, including laundry and vacuuming, to keep seniors' homes clean.
Companionship: Our caregivers make conversation, partake in fun activities, and more to develop a personal connection and become a social companion for your elderly loved ones.
Live-In/24-Hour Care: Our caregivers provide care for seniors who need help at all times. Caregivers in live-in care services will switch shifts every 3-4 days, providing care throughout the day and sleep during the night. Caregivers in 24-hour home care switch shifts every 12 hours, so an awake, alert caregiver is available throughout the day.
Overnight Care: Our caregivers care for those in need of nighttime assistance, arriving in the evening and staying throughout the night to help your elderly relative.
Respite Care: Our caregivers provide family caregivers with time off so they can address their own personal matters while your elderly loved one receives quality care.
Post-Operative Care: Our caregivers provide care and assistance to seniors who are recently out of the hospital, reminding them to take proper medication and help with a full recovery with no setbacks.
Alzheimer's and Dementia Care: Our caregivers can assist Alzheimer's and dementia patients, as they have the specialized training to provide memory care services at home.
Hospice Care: We care for seniors with a terminal illness or limited life expectancy, helping them live their final days comfortably. This also allows family members time to spend with their elderly relative and to handle end-of-life affairs.
Contact Us
For more information regarding our elderly care services in Hoffman Estates, IL, and the neighboring areas of Cook County, call us at (847) 796-6685. We proudly provide free consultations.
---
Related Services:
Elderly Care Park Ridge, IL
Senior Care Hoffman Estates, IL
Park Ridge Senior Care
Senior Care Palatine, IL
Elderly Care Norridge, IL
Elderly Care Niles, IL
Elderly Care Harwood Heights, IL
Elderly Care Des Plaines, IL
Elderly Care Chicago, IL
Elderly Care Elk Grove Village, IL
Elderly Care Rolling Meadows, IL