Errand & Transportation Assistance for Seniors (without medical or special needs)
Please note that our senior transportation services are ONLY included as part of our home care services. This is not a standalone service.
4 hours or more consistent service / per shift
As people age, some of the activities that they do every day may become dangerous.  The activity that becomes the most dangerous for the elderly is driving.  Senior citizens regularly develop vision problems and slow reaction time as they age which can create trouble behind the wheel.  It can be difficult to tell when your elderly family members should give up driving, but it is very important to get them to stop before they hurt themselves or others by causing an accident.  If your family member routinely gets parking tickets or traffic violations, runs out of gas, gets lost driving, or loses their keys, it is time to stop driving.  You must sit down with your family member and have a conversation about giving up driving.
Some senior citizens may not want to give up driving because of the freedom it gives them.  Before you talk to your family members about giving up driving, make sure you can provide an alternative that allows them to maintain some independence.  At Assisting Hands, we provide senior transportation and errand services to run errands and provide rides for seniors who can no longer drive.  We can take care of important errands like grocery shopping and provide rides to doctor's appointments and family gatherings.  Our senior transportation services will help your loved ones maintain some level of independence without the need to drive themselves.  We are also equipped to handle wheelchair transportation for clients who use a wheelchair.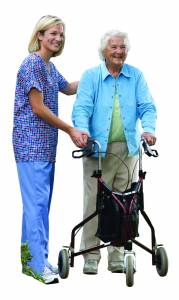 Our caregivers will meet with you and your loved ones to determine a transportation and errands schedule that meets their specific needs.  We can take care of any necessary errands ourselves if your loved one would rather stay home.  The errands services we provide cover the following:
Picking up prescriptions
Grocery shopping
Non-emergency medical transportation
Wheelchair transportation
Home delivery
Organizing and delivering mail
General transportation assistance
When senior citizens give up driving, they not only give up their ability to run errands on their own, but also their ability to get themselves to important events.  We can help your loved ones get to the following events with our senior transportation services:
Family gatherings
Doctor appointments
Social events
Religious ceremonies
Recreational activities
Driving provides an individual with independence and when a senior citizen gives up driving, some of this freedom is lost.  Our senior transportation and errands services help restore freedom to those who no longer drive with a much safer alternative to driving themselves.  You can rest assured that our caregivers will handle the driving and even help load and carry items like groceries.  If you have a family member who no longer drives but could benefit from transportation services, contact Assisting Hands to learn more about how we can help.