Call Now: (847) 915-6186
In Palatine, IL, and the neighboring communities, Assisting Hands helps clients with personal care and companionship services, including help with activities of daily living (ADLs).
Battling Loneliness and Depression
If their family or friends do not live nea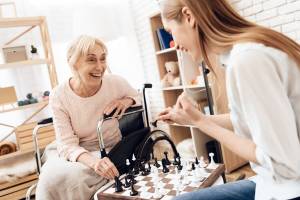 rby or if their friends have passed, seniors can easily become lonely, often leading to depression.
At Assisting Hands, we provide personal care and companionship services for elderly individuals. Our caregivers are dedicated to developing a personal relationship with your loved one, becoming their friend while keeping them company.
Call 847-915-6186 if you have an elderly relative in Palatine, IL, who needs personal care and companionship from a caregiver at Assisting Hands.
Personal Care and Companionship in Palatine
Our caregivers undergo a thorough screening to guarantee only the best, well-trained caregivers work with your loved ones. They are also bonded, insured, and licensed, providing clients with exceptional care and companionship.
Our personal care services include help with activities of daily living (ADLs) and other tasks necessary for leading an independent life. Our caregivers also build a personal relationship with your loved one through meaningful conversation and fun activities.
We provide the following personal care services to assist your loved ones:
Personal Care: Our caregivers provide assistance with various personal care activities. Depending on your loved one's care needs, this can include helping with personal hygiene, restroom use, bathing, incontinence care, getting dressed, eating, walking, transferring, and more.
Meal Preparation: Especially for seniors, health and wellbeing are dependent upon nutritious meals. But not all elderly individuals are capable of cooking for themselves. Our caregivers will prepare daily meals, accounting for any dietary restrictions. We can also shop for groceries and clean up after the meal.
Errands: In the event seniors do not drive, our caregivers can go grocery shopping, pick up prescriptions, and take care of other errands.
Light Housekeeping: It's important to keep a clean home, so our caregivers conduct light housekeeping tasks. We do laundry, wash dishes, vacuum, mop, sweep, dust, take out the trash, and more.
Companionship: Although an important aspect, home care is just one component of our services. Our caregivers will also be their companion, partaking in their favorite activities and conversations.
Get in touch with Assisting Hands for personal care and companionship services if you have an elderly loved one in need of personal care and a good companion in Palatine, IL.
Contact Us
For a free initial assessment, call Assisting Hands at 847-915-6186. We will begin by determining your loved one's care needs to create a proper care plan. A caregiver is then assigned as the best fit for your elderly loved one.
---
Related Services:
Personal Care and Companionship Care Elk Grove Village, IL
Personal Care and Companion Care Hoffman Estates, IL
Personal Care and Companion Care Park Ridge, IL