Call Now: (847) 796-6685
Having a family member who is older or has a disability and requires help during the day is challenging. It can be hard to piece together enough help from other members to get through the daytime hours. Finding someone who can be there overnight may be impossible with work and family commitments.
Even if someone is there, they may not wake up in time or have the training to know what to do if there's an emergency. Assisting Hands provides overnight home care services in Des Plaines, IL to take the worry out of the overnight hours.
Overnight Home Care Des Plaines, IL
For overnight home care services in the Des Plaines, IL area, contact Assisting Hands at (847) 796-6685.
If you have a loved one who needs someone to be on-call overnight, we'll send one of our thoroughly vetted and trained professionals in the evenings; this person will stay until the arrival of a family member or other caregiver in the morning. We help them prepare for bed, stay awake during the overnight hours in case they need assistance, and help them with their morning routines.
If a situation arises in the middle of the night, someone is awake and available to respond. The caregiver can stay in the same room as the client or in another room in the home; it depends on the nature of the client's condition and personal preference.
Our overnight home care services include each of the following: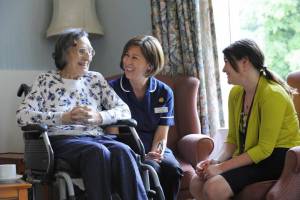 Assistance with morning/evening routines, such as changing clothes and brushing teeth
Help with medication or therapy
Arranging the bedding and helping clients in and out of bed
Aiding clients with changing positions or using the restroom
Immediate response to emergencies
Overnight home care services do more than just help people with mobility issues. Seniors who have impaired vision due to glaucoma, cataracts, or other eye diseases may be able to navigate their homes during the day, but they may be unable to see well enough at night to move without hurting themselves.
An overnight caregiver will ensure that someone with low vision can move without fear in the middle of the night, as well as monitor recent surgery patients for complications. They'll also make sure all medications are taken according to doctors' orders and make them as comfortable as possible. Our aides can also supervise dementia patients to guarantee they don't wake up and wander away, helping them remain calm and guide them back to bed.
Contact Us
Using a skilled, compassionate overnight caregiver from Assisting Hands will provide much needed peace of mind for both you and your loved one in Des Plaines, IL. You'll know that someone will be there in the middle of the night to take care of anything that may occur quickly and competently, from changing bed positions to medical emergencies.
Call us at (847) 796-6685 to speak to one of our Care Coordinators about our overnight home care services.
---
Related Services:
Overnight Caregivers Chicago, IL
Overnight Caregivers Elk Grove Village, IL
Overnight Caregivers, Harwood Heights, IL
Overnight Caregivers Hoffman Estates, IL
Overnight Caregivers Niles, IL
Overnight Caregivers Palatine, IL
Overnight Caregivers Park Ridge, IL
Overnight Caregivers Rolling Meadows, IL
Overnight Caregivers Schaumburg, IL