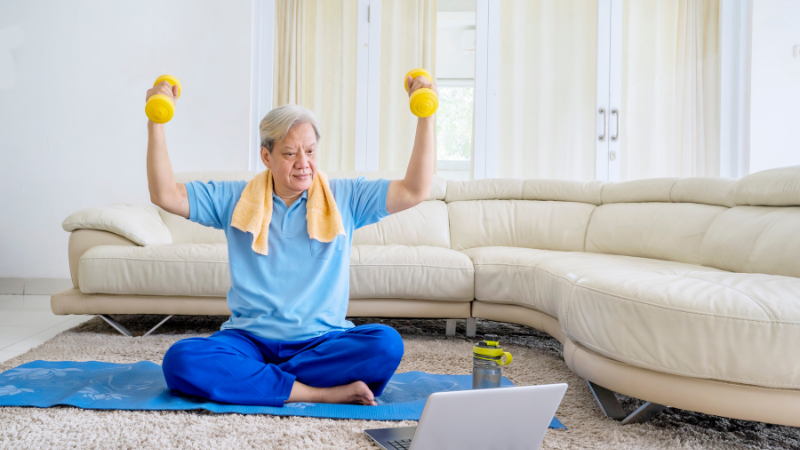 In many parts of the country, the weather is getting colder, and that means more time will be spent indoors. It is important for seniors and their caregivers to find activities to do indoors that are engaging for them and that can improve their health and mental well-being. According to the U.S. Department of Health and Human Services, staying active can lower the risk of many health conditions as well as improve mood, increase confidence, and enhance one's ability to think, learn, and make decisions.
Here are some indoor activities for seniors to stay active and improve their mood through the cold months:
Exercise
You can choose different types of exercise based on your ability and preference. You can use a chair, exercise bands, a TV, a computer, etc. If you prefer to do a class where you are working out with others, you can check with your local senior center or park district and find a class that works best for you. This may include Zumba, yoga, dancing, etc. The most important thing is to get your body moving so that you can stay mobile. Always check with your doctor before starting a new exercise routine.
Puzzles
You can choose to do a level of puzzle that works for you. They may be easy, moderate, or difficult. The point is to do it yourself or with a loved one or a friend and keep your mind sharp. Those with Alzheimer's or dementia can especially benefit from this type of mind exercise.
Board games
You and your caregiver can play board games such as chess or domino or if you are alone, you can always go to a local senior center or park district and check for local bingo or other types of games they may offer for seniors.
Learn a language
This is a great activity to keep your mind occupied. It does take time and patience, but it will keep your mind sharp. There are many apps out there that you can use such as Rosetta Stone, Babbel, Duolingo, Drops, Memrise, and Busuu.
Listen to a podcast
There are various podcasts available from different podcast providers and you can find one related to something that you may be interested in such as lifestyle, exercise, cooking etc. You can use the app store or the Amazon store to download a podcast to your phone.
Read
You can use your time indoors to engage yourself in a new book. There are various options of books available at your local library that you can enjoy via reading or listening to an audiobook. If you enjoy reading on an electronic device, you can always purchase a Kindle and read books that way.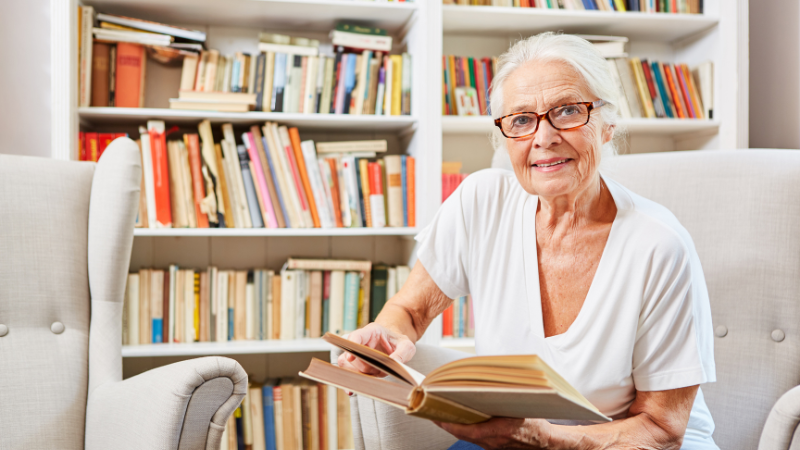 Organize photos
If you have lots of family photos laying around, you may want to organize them so that you can share them with others. You can digitize them via a scanner or turn them into a home movie or add them to a digital frame. This may be a fun activity with family members as you can share old stories and memories with your loved ones.
Do a craft project
There are many ways you can engage your brain by doing activities with your hands. This includes crocheting a blanket or a scarf, painting a picture, or working on a quilt. In the end you will have a great result to enjoy.
Create an indoor garden
You can grow plants indoors such as tomatoes, peas, green beans, and even strawberries. The great thing about this activity is that you will be able to taste the fruit of your labor once they've ripened. This can be a great hobby that you can share with others.
Engage in cooking or baking
You can use your time indoors to create a favorite meal or bake something sweet. This can be a way to spend time with family and friends together baking a tasty treat, or you can do it on your own and share it with others once you've baked it.
Enjoy a spa day at home
Just because you may not feel like going to the hair salon or spa because it may be cold out, you may still enjoy pampering yourself at home. You can soak your feet in a nice foot soak, enjoy a facemask, paint your nails, etc.
Write
If you feel like you are stuck indoors with nothing to do, you can always write to pass time. You can write poetry, short stories, or simply write in a journal. If it is difficult to write, you can have your voice recorded and have someone transcribe it for you. Writing can be therapeutic for many people so you may want to try it.
Watch old movies
If you enjoy old movies, this may be a great time to enjoy an old classic or a comedy. You may be able to track old classics via your local library, or a streaming service such as Netflix or Hulu.
Help a charity
Helping others is a great way to feel fulfilled. You can choose which way you can help based on your abilities. You can, for example, knit a quilt, bake cookies or cupcakes, or help others in whatever way they need help. Check with your local senior center or park district for volunteering opportunities.
Watch a concert online
This is an easy mood booster as music is a great way to feel better mentally. Think of an artist and then look up their concert on YouTube. You can enjoy it for free and fill your home with music.
Shop online
If you are struggling to go outside due to weather conditions, make sure to take advantage of online services such as grocery delivery or food delivery services until you can go outside again.
This list of suggestions on how seniors can keep themselves busy at home during the cold months is not limited to these activities. Activities they may do will depend on their interests mobility levels and comfort with social activities with others. Whether you are a senior or their caregiver, make sure to take time to check on your seniors during these months as even with engaging activities, they may feel lonely and isolated. Check on your loved ones, your neighbors, and your friends, and make sure they are doing ok. Even with many activities available, we still crave human connection, and it is best to engage in person. Have a conversation and check in with others to make sure they are doing okay during the cold months.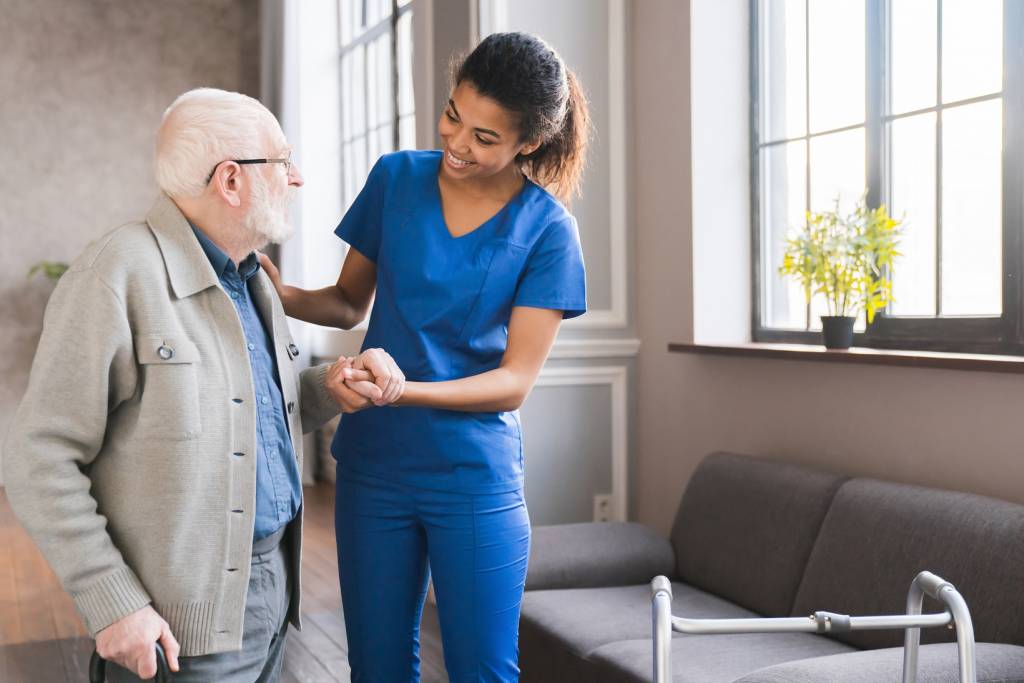 Are you or a loved one in need of senior companion care?
Assisting Hands Home Care knows the importance of companionship for seniors, and that is why we provide senior companion services right in their homes.
For those seniors who are living alone due to the loss of a spouse, it is important for them to have a companion and not be socially isolated. We can help with our senior companion services. Our highly skilled caregivers will spend time with your loved one and engage them in activities and conversation.
To learn more about our services call us today at (725) 696-9942 or visit our website.