The festivities of the holidays are close upon us. Merriment and laughter among social circles are prevalent, even, on occasion, taken for granted. While many people cherish the time spent together during the most cheerful season of the year, seniors who are alone have the likely tendency to feel isolated and depressed. Due to their close circle of friends and family being far away or spouses having passed away, senior citizens experience more hardship due to loneliness during the holidays than many other age groups.
Signs of Loneliness
When visiting a senior, make it a point to look for clues that reveal their emotional state. Signs of isolation can be revealed through body language. If the senior is slumped over, with a downward head posture, it could mean they feel the impact of isolation. Feeling defeated by circumstances not under their control also can be observed in firmly crossed arms and legs.
Discuss how seniors spend their time when visitors are not present to socialize with them. If the elderly individual is extremely talkative, it may suggest a lack of connection with others. Seemingly, it is as if they are trying to get as much conversation going as possible, since they may have limited opportunities to do so.
Physical exchanges can be another indication of loneliness. Should a senior hold onto your arm or hand for prolonged periods, it is likely they long for physical contact.
Social circles are important to any human being, and older individuals need friends, just as well. Ask seniors you visit how often they have the opportunity to engage with others in the community. As individuals age, they lose their friends and family, making finding new acquaintances difficult.
If you suspect loneliness in a senior when the holidays near, there are plenty of ways to ease their hardship.
1. Involve the Children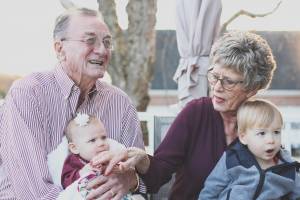 Older adults are proud of their grandchildren. If a school play is running, take your loved one out to see the show. If your loved one has a knack for sports, attending school athletic games is a definite mood booster, especially when family members are playing. Grandparents who are in a vulnerable emotional state experience an increased sense of happiness upon interacting with younger generations.
If your loved one is in a nursing home, contact the director of the facility to see if it is possible to arrange for a performance, such as a school choir or play, to be held in benefit of the residents during the holiday season.
2. Send Wishes of Gratitude
Family members who age may feel undervalued during the holidays, especially if their immediate family has moved away. Appreciate your aging loved ones by thanking them for the values they instilled in you, like the importance of family and friendship. Tow the entire family, children and even pets, for family visits to a senior to remind them that the holidays are not about presents but about the people we cherish. Their proud and happy reactions will be priceless. Delight in sharing a pot of tea with a senior at their kitchen table or make phone calls to give them the comfort of knowing they are valued, especially when the holiday merriments start.
3. Decorate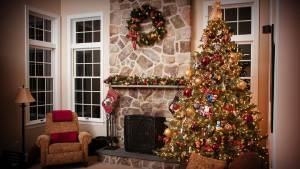 Add festive cheer to your loved one's space. A holiday tree with keepsake ornaments that have been in the family for generations may spark memories in your loved one. Listen closely as they recall old times. Ask about long-past experiences as they gingerly retell the cherished stories of their youth.
You can also decorate in stages, which gives your loved one moments to look forward to. Ensure the decorations you help the senior with are safe.
4. Write Holiday Cards
Engage your family in sending holiday cards, photographs and drawings to an aging loved one. Seniors enjoy receiving thoughtful notes in their daily mail, knowing someone is thinking fondly of them during this hectic yet festive season.
You can also sit down with a senior and help them write and send cheerful holiday cards to friends and family. They will enjoy your company and the chance to reach out to those they love. The elderly who are too frail to drive will delight in a few trips to the post office, where they can personally mail holiday greetings.
5. Rely on Spiritual Support
Contact the local religious organization to see if a spiritual leader can pay a visit to your loved one. Having someone to talk to relieves the burden of loneliness, especially during the holidays. If the senior is in a nursing home, many organizations can offer support by sending a spiritual leader to the facility.
6. Network
Organize a small gathering for your aging loved one during the holidays (or any time of the year). Call the senior's friends and invite them over for a New Year's Eve celebration, for instance. If the elderly individual resides in a nursing facility, you may be able to use a conference room to host the gathering. Feeling the warmth and camaraderie of the people who mean the most goes a long way in alleviating the depression some seniors feel at the turn of the year.
Work with Assisting Hands Home Care
When it's difficult to spend the holidays with a senior, give a caregiver the pleasure of the responsibility. Involve a local senior care center to send a compassionate homecare aid to offer valuable companionship during the hectic season. Assisting Hands Home Care serves the local community with invaluable in-home senior care services, like companion care services.
Senior companions offer a wealth of non-medical care, from pleasant conversation to social activity planning. Assisting Hands Home Care staff encourage healthy habits, like daily exercise, as well. Senior companions from Assisting Hands Home Care are committed to aging individuals—not only for the holidays, but for the long term. When you can't be around to connect with your loved one, you can rely on the Assisting Hands Home Care team to step in with support and considerate companionship.