The gift-giving season fast approaches! People young and old are geared up for hours of shopping to discover the perfect presents and score on the season's irresistible deals. When hunting for gifts with a senior companion, be both merry and wise by practicing a few safe holiday shopping tips.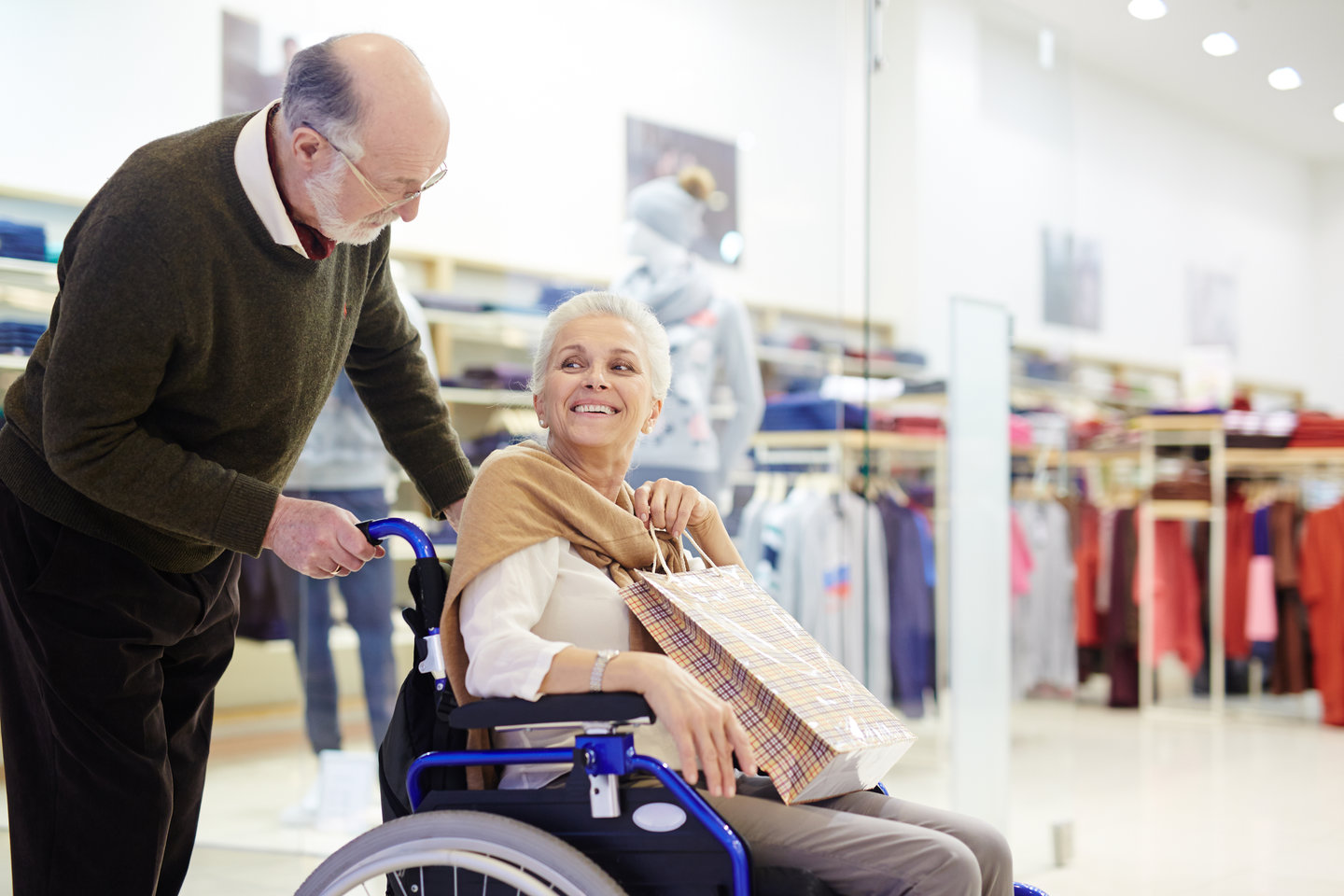 Despite the generous spirit that surrounds the holidays, criminals launch a flurry of attacks during these festive weeks. Retail areas are a prime target. Seniors, especially, attract thievery due to the perception that older individuals can be distracted more readily and react slower.
Aside from criminal activity, seniors' bodies are susceptible to fatigue. Older people move slower, and some seniors may experience a range of mobility issues. Still, aging individuals and their loved ones are able to enjoy browsing the products in physical stores and making spectacular online purchases.
1. Spread the Joy
Older adults are likely to have in mind many gift recipients that span multiple generations, from children to great grandchildren. Considering the large number of presents seniors feel the urge to buy, spread out the joy of shopping over several days. One-stop shopping only wears out the elderly fast.
2. Get a Head Start
Last-minute shopping is a major stresser. Take the sting out of trying to find a gift for that hard-to-shop person by visiting stores or online sites early on in the holiday season. Ease the process by encouraging the senior to shop for the easiest gifts on the list first.
3. Keep Good Company
Shopping with a group promises to lend fun to the event. If the senior lives in a retirement community, group outings to the store are sure to add merriment to this already festive time of year. Plus, heading to the store in a group decreases the cost of transportation.
Safety in numbers is especially important for vulnerable seniors. Invite a friend or enlist a trusted caregiver. The opportunities for companionship and conversation infuse the trip with jollity. Seniors lean on friends or a caregiver for physical support when feet tire or when shopping bags become heavy.
4. Shop During the Day
Weekday evenings are typically jam-packed with the crowds of after-work shoppers. Seniors may get lost in the hustle and bustle and may experience unease. Promote comfort in the elderly by choosing daytime hours to shop peacefully and in less-crowded stores.
If shopping at a physical retail store at night, the senior must practice caution. Park the vehicle in a well-lit area to deter possible criminal attacks. Be sure the pathway from the parking lot to the store features ample lighting. Park closest to the shop's doorway, for added safety.
5. Pick Shopping Days Wisely
Similar to shopping during non-peak daytime hours, select days that are more appropriate for aging individuals. Retail outlets are packed with a frenzy of crowds the day before and the day after a major holiday. Pick calmer days to allow the senior ample time to browse at her own pace.
6. Lock the Vehicle
While perusing retail shops, keep the vehicle locked. All purchases, including bags of all sizes, should be tucked away in the trunk of the car or covered by a blanket. A curious would-be thief will be less interested in breaking into a car if he cannot see what's inside.
Head to the car with keys in hand. Fumbling for car keys only clues in attackers on the senior's vulnerability. Carrying an excess number of packages may lead to a balance issue for seniors, so keep the bag count low when walking around or make multiple trips to the car.
7. Shop Online

Some seniors never tire of a morning spent in a retail store. Others, however, welcome the opportunity to shop for holiday trinkets from the comfort of home. Tech-savvy seniors and even those with limited technological knowledge are presented with numerous avenues to shop from their computer.
8. Shop Online Securely
Senior shoppers who venture into the world of online shopping should stick to trusted retail websites. Familiar online stores are also often major retailers with a high level of customer service and quality assurance. Make sure the address bar features a padlock and "https://" before entering payment information.
9. Know Online Store Policies
Shopping online has its perks, but understanding the fine print can be a money-saver. Shipping costs can significantly spike the price of an item bought from an online store. Return policies may be restrictive. Additional fees and taxes will also increase an item's advertised cost.
10. Use Online Coupons Judiciously
Just like brick-and-mortar stores, many online retailers accept coupons via reputable coupon sites. Safety precautions should be practiced when using coupons consolidated from around the web. Trustworthy coupon sites will never ask for personal details, such as credit card or social security information.
Get Help from a Caregiver

Families juggling home, family and work responsibilities often turn to Assisting Hands Home Care for compassionate home care for an elderly loved one. A senior with mobility issues or few family members close by rely on our caregivers to provide the safe transportation to stores and friendly companionship during the holiday shopping trip.
Assisting Hands Home Care providers are also skilled in helping the elderly with the activities of daily living. We prepare nutritious meals in accordance with the senior's dietary restrictions, perform light housekeeping and ensure our care recipient's home environment is free of tripping hazards.
Our cheerful caregivers also are excellent companion care providers. We take pride in choosing professionals who are able to develop meaningful relationships with seniors in our care. The elderly are in good company and evade loneliness with the help of Assisting Hands Home Care caregivers.
Families and their aging loved ones in Park Ridge, Illinois, continue to rely on Assisting Hands Home Care for dependable elder home care services during the holidays as well as every day of the year.
Get a Free Estimate
Get a free consultation for our home care services in Park Ridge, IL and the surrounding areas by contacting Assisting Hands at (847) 796-6685.