When you act as a caregiver for an elderly individual, one of the responsibilities that you might have is preparing meals for your client. This can include getting the necessary groceries and ingredients, preparing and cooking the food, serving the meal, helping the individual eat, and cleaning up afterwards.
It takes a lot of time and effort, but it's an important activity to take on. If you are responsible for preparing meals for your elderly loved one, then you need to make sure that the meals you are preparing are healthy, nutritious meals that meet their needs. Chances are, though, that meal preparation is just one of many tasks you are responsible for. With all that work to take care of, it can be difficult to have the energy and time to cook. But it isn't impossible.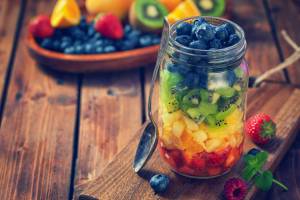 Continue reading to discover some quick, easy recipes that are good for seniors. Not only are these meals easy to prepare, but they will satisfy hunger and nutritional needs. You won't need to spend an extended amount of time preparing food so you can devote that time to other home care needs.
Breakfast
It's no secret that breakfast is an important meal, because it gives you energy for the day. This is especially important for seniors, though, and it's also a good time for them to get their recommended daily serving of 65 grams of protein.
1. Eggs and Toast
Hard-boiled and poached eggs are healthy, easy options for breakfast that provide protein and go well paired with whole wheat toast. For the toast, you can add a nut butter to provide an extra source of protein and fat ― as long as the senior has no allergies to nuts, that is. Otherwise, avocados go well with toast, too, and provide healthy fat.
2. Yogurt Parfait
A yogurt parfait is a quick and simple breakfast that caregivers can make just by mixing together some yogurt and toppings like nuts and fruit. It provides the elderly individual with dairy, healthy fat, carbohydrates, and vitamin C.
3. Oatmeal
The great thing about oatmeal is that you can cook it overnight in a slow cooker, so you can take care of other care tasks or even rest at the same time. Add water, old-fashioned oats, berries, and a pat of butter in your slow cooker, and put it on low heat. This will get you an oatmeal mixture with a bread pudding-like consistency. If you so desire, you can also cook the oatmeal without the berries and add them in later when you serve breakfast. Banana slices are another mix-in you can add, and they are a good source of potassium.
If you don't want to use a slow cooker or don't have one available, you can also microwave oatmeal in a microwave-safe bowl for as long as it takes to reach your desired thickness.
Lunch
Per recommendations from the United States Department of Agriculture, seniors should consume 2 to 2 ½ cups of fresh vegetables on a daily basis, and lunchtime is a great time to serve vegetables.
1. Omelet
An omelet is a great, versatile meal that can be changed up in various ways with mix-ins and sauces, such as cheese, avocados, and salsa. Plus, you can easily add vegetables to get the proper vegetable serving.
2. Fish Wrap
Make an easy nutritional fish wrap with either canned salmon or canned tuna and a whole grain wrap. Add some plain yogurt, and pack in some vegetables like tomatoes, lettuce, and avocado. Then, wrap it together tightly, and cut it in half.
3. Quinoa Salad
Stir fry mushrooms, onions, and red peppers together, and then add some cooked quinoa. If desired, you can also add pecans or pine nuts. When you're ready to serve it, add Italian dressing. You can either eat it warm and fresh, or cold.
Dinner
1. Alaskan Salmon
You can either grill or bake your salmon steaks, but whichever you pick, make sure you cook it with a healthy fat, such as extra virgin olive oil. Place a teaspoon of extra virgin olive oil, chopped sweet onions, tomato slices, minced garlic, and basil on each salmon steak. Then wrap each tightly in foil and bake them at 300 degrees for 15 minutes. If the fish wasn't thawed, then you'll likely need to bake it longer. You'll know the salmon is done when it's flaky and remains moist.
2. Pasta with Shrimp
Cook whatever pasta you would like and add fresh chopped tomatoes to it. Chop some garlic and herbs and throw them in a saucepan with a tablespoon of olive oil. Add in the shrimp and cook it thoroughly. When it's cooked, then add it to the pasta, and it's ready to be served.
3. Southwest Chicken Salad
The great thing about southwest chicken salad is that it can be consumed as is, in a wrap, or with soup. To make the salad, you'll first need to cook a skinless and boneless chicken breast on medium heat with extra virgin olive oil in a skillet. When the chicken is fully cooked, shred the chicken, and mix it together with some salsa.
Senior Care Services
With these easy recipes for seniors, both formal and informal caregivers can have an easier time preparing meals for elderly individuals. If your elderly loved ones struggle throughout their daily lives with more than just preparing their own meals, then you should consider working with a home care agency like Assisting Hands Home Care that provides elderly care services in Hollywood, FL and the surrounding areas. With our in-home care services, we will provide seniors with a caregiver to help them with whatever activities they need assistance with, including meal preparation. All of our care plans are customized to the client, so you can trust that your elderly loved one will get the care they need and deserve.
Contact Us
For a free, in-home care consultation regarding our home health care services in Hollywood, FL, contact Assisting Hands Home Care at (954) 644-7276.