Assisting hands was a sponsor at the Patty's Pals Foundation 4th annual Breast Cancer Awareness fundraiser on October 23, 2018. Proceeds will be donated to Patty's Pals Foundation in Bartlett Illinois – Donations will be evenly distributed to help Breast Cancer Clinical Research, Breast Cancer Support Services, and Breast Cancer Nurse Navigation.
Patty's Pals is a group of family and friends who came together initially to support Patty who was diagnosed with stage 3 triple negative breast cancer in December 2011. Their mission is to support non-profit organizations that aid in the research of cancer prevention, education, services and care improvement. 2018 Fundraising Events will benefit organizations that offer research, service and support for cancer patients and their families. One of the beneficiaries is the Kellogg Cancer Foundation (KCF) – affiliated with North Shore University Health System offering comprehensive, compassionate cancer care with locations in Evanston, Glenbrook and Highland Park Hospitals. KCF aids in providing personalized treatment, support services and innovative cancer research to improve cancer prevention, detection and treatment.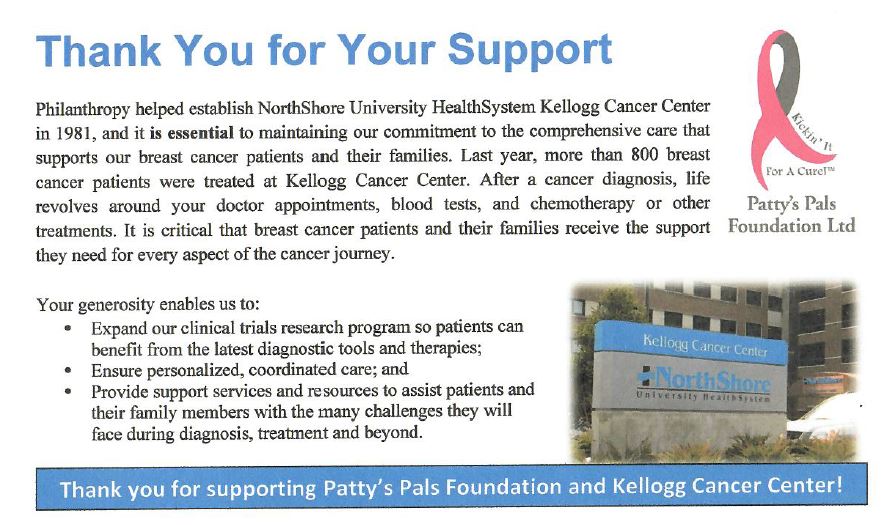 Assisting Hands provides cancer recovery and support services to help families care for loved ones who are undergoing cancer treatment or recovering from cancer.  There is so much that goes into caring for someone with cancer and you can trust our trained and professional caregivers to provide a range of services to help ease the recovery process. Give us a call to learn more about how we can help you or your loved one in your fight against cancer.